The head of the EU delegation, Finnish Foreign Ministry Secretary of
State Pertti Torstila, who spoke on behalf of the current EU
Presidency, said after the meeting a final EU decision will come in the
autumn.
Some doubts remain as to the availability of key political
freedoms such as the right of assembly and expression, as well as restraints on
political parties.
"We
welcome the candidacy of Kazakhstan in principle, but we at the same
time indicated certain concerns, which we would like to be answered in
a satisfactory way so that Kazakhstan could convince all EU member
states about the importance, about the validity of its bid," Torstila
added.
Some Question Democratic Reforms
A senior
EU official who was present at the meeting, but who asked not to be
identified, told RFE/RL some EU countries question the extent of
Kazakhstan's democratic reforms. In particular, doubts remain as to the
availability of key political freedoms such as the right of assembly
and expression. Restraints on political parties are another stumbling
block.
However, Torstila today indicated the EU is considering
taking a wider view. He noted attaining the goal would "matter much"
for both Kazakhstan and the OSCE as it would be the organization's
first "CIS presidency."
As EU officials privately concede, the
EU's view of Central Asia is increasingly influenced by the need to
secure alternative energy suppliers to Russia.
Energy Takes Front Seat
Both
sides said energy issues played a key role in today's talks. The head
of the Kazakh delegation, Agriculture Minister Akhmetzhan Yessimov,
said his country is keen to supply a greater share of EU energy needs.
"Kazakhstan
is one of the leading countries in the Caspian region in terms of oil
production, which last year reached over 60 million tons and will in
the near future reach 100 million tons and more," he noted.
"After
the adoption of a new version of its 'green book' [draft policy
document] on energy policy by the EU, [Brussels] is looking to import
20 percent of its energy resources from the Caspian region. Last year,
Kazakhstan's exports of energy resources to the EU exceeded $10
billion. These figures show that Kazakhstan's share rises year-on-year
and it is becoming significant in meeting EU energy needs."
Kazakhstan's
ambassador in Brussels, Konstantin Zhigalov, said Kazakhstan is
committed to completing a trans-Caspian pipeline capable of carrying 67
million tons of oil a year. He said this would allow Kazakhstan to
supply "in four or five years' time" half of the oil flowing through
the recently completed Baku-Tbilisi-Ceyhan pipeline.
Many Interested Customers
He
also said Kazakhstan is very interested in developing transit pipelines
to Europe crossing the Black Sea and heading on toward the Balkans in
the west and Ukraine and Poland in the north.
But, both Yessimov
and Zhigalov said, Kazakhstan is also looking elsewhere. The country is
already exporting an annual 10 million tons of oil to China and expects
to supply 20 million tons a year in the near future. Kazakhstan also
exports 17.5 million tons of oil a year via Russian pipelines.
Zhigalov
said Kazakhstan is also operating an oil-swap scheme with Iran,
providing oil in the north of the country in order to receive in return
an equivalent amount at the Persian Gulf.
Raising Level Of Ties

Yessimov
today indicated Kazakhstan is keen to use its growing importance to
upgrade contractual ties. He said Astana today asked the EU to include
the country in its European Neighborhood Policy and start working on a
strategic partnership treaty. These objectives, if achieved, would put
Kazakhstan's relations with the EU level with those of Russia and
Ukraine.
Finnish representative Torstila made it clear today,
however, that such an upgrade is currently not on the cards. He noted
that the existing EU-Kazakh Partnership and Cooperation Agreement is
far from exhausted.
The two sides today also discussed a number
of other issues. The EU offered Kazakhstan assistance in strengthening
its borders to stem illegal immigration.
Both Torstila and
Yessimov said the two sides "thoroughly" discussed the situation of the
refugees who fled Uzbekistan after last year's massacre in Andijon.
Yessimov said Kazakhstan abides by all relevant international rules in
handling the issue.
Kazakhstan's Fallen Opposition
Kazakhstan's Fallen Opposition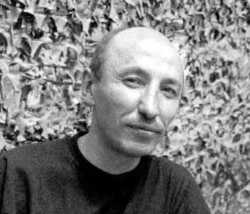 Slain Kazakh journalist Askhat Sharipzhanov (undated RFE/RL file photo)
February 13, 2006:
Altynbek Sarsenbaev
-- a leader of the Kazakh opposition, co-chairman of the Naghyz Aq Zhol party, former minister of information, former Kazakh ambassador to Russia, former secretary of Kazakhstan's Security Council -- is found dead with his bodyguard and his driver, shot to death, execution style, with their hands bound behind their backs.
November 11, 2005: Zamanbek Nurkadilov-- prominent Kazakh politician, former mayor of Almaty, former Minister of Extraordinary Situations, and since a vocal critic of President Nursultan Nazarbaev since March 2004 -- is found shot to death, with two shots in his chest and one in his head. Kazakh authorities officially rule the case a suicide.
June 2, 2005: Batyrkhan Darimbet -- opposition journalist and editor in chief of the weekly AZAT -- is killed in what is officially reported as a traffic accident. Relatives and activists assert that it was a political killing.
December 19, 2004: Erzhan Tatishev -- head of Kazakhstan's largest bank, TuranAlemBank -- is killed in what was officially described as a hunting accident. Kazakh political observers allege that it was a premeditated assassination.
July 20, 2004: Askhat Sharipzhan-- independent journalist and political commentator for NAVI online -- dies of injuries sustained several days earlier in what was officially reported as a hit-and-run accident. Relatives and colleagues believe it was an assassination.
November17, 2002: Independent journalist Nuri Muftakh is killed in what is officially reported as a traffic accident. Colleagues and activists regard the death as suspicious.
January 4, 2002: Human rights activist Aleksei Pugaev is found dead, the victim of a hit-and-run car accident. Colleagues regard the circumstances as suspicious and no one is ever arrested in connection with the death.
(compiled by RFE/RL's Kazakh Service)
RELATED ARTICLES
Sarsenbaev Murder Trial Begins
Kazakh President Tries To Calm Growing Political Crisis
Nazarbaev Landslide Buries Future Problems
Nazarbaev Touts Stability In Run-Up To Election
ARCHIVE
To view an archive of RFE/RL's coverage of Kazakhstan, click here.

SUBSCRIBE
For weekly news and analysis on all five Central Asian countries by e-mail, subscribe to "RFE/RL Central Asia Report."