The $500 million Lebanon hopes to raise from the representatives of more than 60 countries and organizations present in Stockholm will be little more than a beginning for the war-ravaged country.
Lebanese Prime Minister Fouad Siniora told the donors this morning that in a matter of only seven weeks, his country's previously benign economic outlook has been "torn to shreds."
Extent Of Damage Still Unknown
At a press conference a little later, he said Lebanon had been put back 15 years. "Lebanon's well-known achievements in 15 years of postwar development have been wiped out in a matter of days by Israel's deadly military machine," he said.
"The recent military conflict has shown us, once again, that war will not lead to peace and security." -- Swedish PM

Lebanon's government says the damage done by the Israeli bombardment runs to billions of dollars. The full extent of the costs of reconstruction still remains unknown. Thus, the European Commission has earmarked 10 million euros ($12.8 million) of its 42 million-euro pledge to go toward helping the Lebanese authorities to undertake a comprehensive damage-assessment study.
The Lebanese government has said it estimates some 130,000 houses have been destroyed or damaged. Much of the country's infrastructure lies in ruins. The international aid agency Oxfam has said 85 percent of the country's farmers have lost some or all of their crops. The losses from investment flight and lost tourism revenues are more difficult to calculate.
Israeli Blockade Blocking Recovery
Siniora used the donors conference to remind his audience that despite the cease-fire, the conflict still lingers. He said that Israel must immediately lift its sea and air blockade -- or Lebanon's recovery will be severely hampered.
"If Israel does not immediately lift its humiliating siege on Lebanon, as it was justly described by the [UN] secretary-general, Kofi Annan, if it does not withdraw immediately from the positions it still occupies within Lebanon in violation of United Nations Security Council Resolution 1701, the recovery process, including this conference today, which you earnestly called for, will be severely undermined," he said.
The EU, which played a lead role in attempts to bring the conflict to a speedy end, supports this call. The EU position was today reiterated by the host of the donors conference, Swedish Prime Minister Goran Persson.
"The recent military conflict has shown us, once again, that war will not lead to peace and security," he said. "In this context, I support the call by Secretary-General Kofi Annan to lift the [Israeli] blockade against Lebanon."
Supporting Government's Authority
The European Commission, which together with the 25 EU member states is expected to supply the bulk of the funds contributed today, said on August 30 that its aid will be geared towards supporting the Lebanese government's "authority and sovereignty."
Persson today said this will involve promoting national reconciliation "The resources that we commit in support of Lebanon should be flexible in nature and quickly disbursed," he said. "They should help ensure the involvement of all parts of [Lebanese] society in the recovery and reconstruction process, thereby contributing to national unity and prosperity."
EU officials and politicians have expressed fears that Hizballah, which has already begun funding reconstruction work, could see its status entrenched if not enhanced.
Swedish Foreign Minister Jan Eliasson also dismissed fears that international aid contributions could end up in Hizballah's hands.
Today's event will be followed in Stockholm on September 1 by another international donors conference for the Palestinian territories.
UN Peacekeepers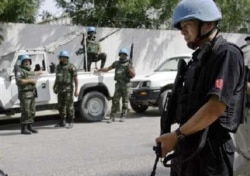 UN peacekeepers in Haiti in February 2006 (AFP)
MISSION
In cases in which international intervention in regional conflicts is deemed necessary, peacekeeping missions authorized by the UN Security Council provide legitimacy by demonstrating the commitment of the international community to address such crises.
MANDATE
UN peacekeeping missions are prepared, managed, and directed by the UN's Department of Peacekeeping Operations. The unique mandates of peacekeeping missions falls under the authority of the UN's Security Council and General Assembly, and under the command of the UN secretary-general.
MONEY
Funding for UN peacekeeping missions is provided by UN member states. All are legally obliged to pay a share under an established formula. The leading financial providers as of 2006 were: the United States, Japan, Germany, the United Kingdom, France, Italy, Canada, Spain, China, and the Netherlands.
MORE
All UN peacekeeping missions share the goals of alleviating human suffering and creating conditions for self-sustaining peace. Missions can consist of armed or unarmed military components, depending on their mandate, and various civilian tasks.
Military operations can include:
· Deploying to prevent the outbreak of conflict or the spillover of conflict across borders;
· Stabilizing conflict situations after a cease-fire in order to create an environment for the parties to reach a lasting peace agreement;
· Assisting in implementing comprehensive peace agreements;
· Leading states or territories through a transition to stable government, based on democratic principles, good governance, and economic development.
HISTORY
There have been 60 peacekeeping operations since 1948. Fifteen peacekeeping missions were in operation in mid-2006, employing more than 60,000 troops, 7,000 police, and over 2,500 military observers. Peacekeeping operations in 2006 were supported by uniformed personnel provided by 109 countries.
(source: UN Department of Peacekeeping Operations)
RELATED ARTICLES
Middle East: UN Mulls New International Force For Lebanon
Georgia: Issue Of Russian Peacekeepers Heats Up
UN: U.S. Presses For Peacekeeper Deployment To Darfur