Cluster bombs explode in midair, scattering dozens of bomblets over a wide area. The UN says tens of thousands of these small munitions lie unexploded in gardens, homes, and roads across southern Lebanon -- each ready to explode on touch.
"What's shocking and, I would say, to me, completely immoral is that 90
percent of the cluster-bomb strikes occurred in the last 72 hours of
the conflict." -- UN official

"The problem is a huge one that we are facing at the moment," says Dalya Farran, a spokeswoman for the UN Mine Action Coordination Center in southern Lebanon.
"Up to yesterday night we had figures saying there were 405 locations of cluster-bomb strikes in southern Lebanon," she adds. "Per day, we are receiving an average of 30 new locations of cluster-bomb strikes because we have survey teams going to the field and getting information, and the picture is still emerging more and more."
International Criticism
Criticism has been mounting for some time of Israel's use of these munitions in its military campaign against Hizballah. Rights groups like Human Rights Watch have warned of the danger they pose to civilians, and have questioned whether Israel violated international law by using them in densely populated areas.
The U.S.. State Department last week said it was investigating whether Israel misused U.S.-supplied munitions in its month-long campaign.
And in Jordan today, UN Secretary-General Kofi Annan said these were the kind of weapons that, long after the conflict, lie "silently waiting to maim and kill." And hours earlier, Undersecretary-General for Humanitarian Affairs Jan Egeland was even more forthright.
"What's shocking and, I would say, to me, completely immoral is that 90 percent of the cluster-bomb strikes occurred in the last 72 hours of the conflict, when we knew there would be a resolution, when we really knew there would be an end of this," he said.
Illegal Weapons?
During the war, Israel said it tried to avoid civilian casualties and that it complied with international law. It's given little reaction so far to Egeland's remarks.
A spokesman with the Israel Defense Forces (IDF) repeated what the Israel army has said so far on the issue: "All the weapons and munitions used by the IDF are legal according to international law and their use conforms to international standards."
Rights groups counter that, while cluster bombs are not illegal, their use may be. Marc Garlasco of Human Rights Watch, who's just returned from a visit to southern Lebanon, says the least the Israelis can do is hand over maps of where they dropped these munitions.
"It's imperative," he says. "When we were in Lebanon last week we were told by de-mining organizations that getting the maps is one of the most important things, because they're spending so much time in finding the fields, they're losing time clearing the fields."
Meanwhile, the painstaking work of finding and clearing the cluster bombs continues, before they injure or kill more people.
Farran of the UN in Lebanon says some 13 people have been killed by the munitions since hostilities ended on August 14, and nearly 50 more have been injured. She estimates the cleanup will take about a year.
(Irina Lagunina of RFE/RL's Russian Service contributed to this report.)
UN Human Rights Council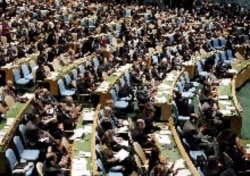 UN General Assembly delegates applaud the creation of the UN Human Rights Council on March 15, 2006 (epa)
A FRESH START ON HUMAN RIGHTS: The United Nations General Assembly on May 9 elected members to its new Human Rights Council, a step that reformers hope will help improve the United Nations' sullied record on defending human rights. The UN's old human rights watchdog -- the Commission on Human Rights -- had long been criticized for granting membership to countries with dismal human rights records, such as Cuba, Sudan and Zimbabwe.
Every member of the new body has to pledge to promote human rights. (more)
RELATED ARTICLES
General Assembly Votes To Create New Rights Council
Vote On Human Rights Council In Limbo Over U.S. Objections
At 60, UN Gripped By Debate on Human Rights Reform
SUBSCRIBE
For a regular review of civil-society developments throughout RFE/RL's broadcast region,
subscribe to "RFE/RL (Un)Civil Societies."