The newspaper quotes unidentified senior security officials as saying that an Israeli delegation presented the evidence during a recent visit to Moscow. The report says the weapons had been provided by Russia for the Syrian Army.
The officials say a fresh Russian arms shipment is due to arrive in Syria in the coming weeks.
Meanwhile, Israel has set up a ministerial working group on Syria.
Foreign Minister Tzipi Livni's office said in a statement today the group is to make a diplomatic assessment concerning Syria. The statement said the assignment was not related to "any type of negotiations" with Damascus.
Media reports, however, say the group will submit an assessment on the prospects for renewing peace talks with Syria, which have been stalled since 2000. Israel captured the Golan Heights from Syria in the 1967 war.
(AFP)
Iran, Syria, And Hizballah
Iran, Syria, And Hizballah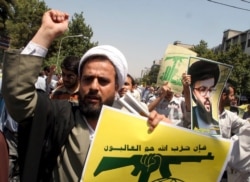 Iranians demonstrating in support of Hizballah in Tehran on July 17 (epa)

'FOR THE SAKE OF LEBANON': The Islamic Republic of Iran has served as an ideological inspiration for Hizballah since the Lebanese militant group's creation in 1982, and Tehran acknowledges that it supports the organization morally and politically. "Yes, we are friends of Syria and Iran" Hizballah leader Hassan Nasrallah has said. "For 24 years we benefited from our friendship with Syria and Iran for the sake of Lebanon...." (more)
RELATED ARTICLES
Tehran Playing Key Role In Israel-Lebanon Crisis
Iran, Hizballah Brush Off U.S. Terrorism Label
Intifada Conference In Tehran Has Multiple Objectives
UN Resolution Rankles Syria, Hizballah, Iran
ARCHIVE
RFE/RL
coverage of Iran
. RFE/RL web special on
Iran's nuclear program
.
SUBSCRIBE
For weekly news and analysis on Iran by e-mail,
subscribe to "RFE/RL Iran Report."