Christian Ethics To Be Taught In Some Ukraine Schools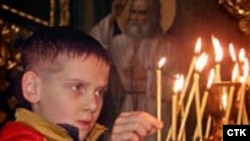 (CTK) August 31, 2006 -- Kyiv city officials say some schools in the Ukrainian capital will begin teaching Christian ethics this year.
The experimental program will be offered to six-year-olds but parents can opt to withdraw their child from the lessons.
The proposal has raised some concern among Kyiv's minority Jewish population, and Education Minister Stanislav Nikolayenko suggested Kyiv's city government should postpone the lessons.
(AP)