PRAGUE, September 3, 2006 (RFE/RL) -- A British spy plane crashed in Afghanistan on September 2, killing 14 military personnel in Britain's worst single loss in five years in the country.
Defense Secretary Des Browne described the crash as "a dreadful, tragic accident," adding that "there hasn't been any other involvement in the incident itself."
An investigation has been launched.
Browne rejected as a lie claims by Taliban guerrillas that they shot down the plane. A NATO force spokesman, Major Scott Lundy, also said Taliban's claims were "absolutely false."
The crash brings to 36 the number of British forces personnel who have died while serving in Afghanistan since November 2001.
The Nimrod MR2 reconnaissance plane came down near the southern city of Kandahar.
Browne said the morale of British soldiers in Afghanistan was "holding up," though he acknowledged that "the south [of Afghanistan] is a very difficult and dangerous place and our own experience there has suggested that."
He noted that British troops "have made significant progress in the north and west of Afghanistan" and defended the British mission in the country.
"The developed world can't afford to allow Afghanistan to become a training ground for terrorists again," he said. "The whole of the developed world knows that and that's why almost all of the developed world, the whole of the civilized world has troops and others present working with us on this task."
The British form part of a NATO-led international force operating under a United Nations resolution.
Patrick Mercer, the Conservative spokesman on security, said British forces in Afghanistan needed to be better equipped if the campaign was to be successful.
NATO Launches Major New Operation
The crash comes at a time when the Taliban and other insurgent groups have stepped up attacks on Afghan and foreign forces, plunging the country into its bloodiest period since the Taliban were toppled in late 2001.
On September 2, suspected Taliban fighters assassinated a senior Afghan police officer, his three bodyguards and a female relative, leaving only the woman's three-month-old baby alive.
Suspected Taliban also assassinated a district police chief in the neighboring province of Nimroz, killing three of his bodyguards. Three attackers were also killed, police said.
Meanwhile, NATO said a major air and ground offensive by NATO and Afghan forces has inflicted "heavy casualties" on the Taliban in southern Afghanistan. Spokesman Major Scott Lundy said today no combat casualties were suffered on the NATO and Afghan Army side.
Hundreds of NATO and Afghan troops, backed by combat aircraft and helicopter gunships, were involved in Operation Medusa, which was launched on September 2 in Panjwayi District in the province of Kandahar.
Lundy said the operation was the biggest launched by the alliance since it took over command of the region at the end of July from U.S.-led coalition forces.
The Afghan Insurgency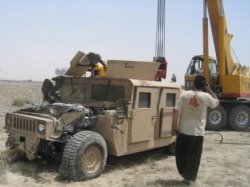 A U.S. military vehicle damaged by insurgents near Kandahar (epa)
HOMEGROWN OR IMPORTED? As attacks against Afghan and international forces continue relentlessly, RFE/RL hosted a briefing to discuss the nature of the Afghan insurgency. The discussion featured Marvin Weinbaum, professor emeritus of political science at the University of Illinois at Urbana-Champaign, and RFE/RL Afghanistan analyst Amin Tarzi.
LISTEN
Listen to the entire briefing (about 83 minutes):
Real Audio
Windows Media
ARCHIVE
RFE/RL's
coverage of Afghanistan
.
SUBSCRIBE
For weekly news and analysis on Afghanistan by e-mail,
subscribe to "RFE/RL Afghanistan Report."