PRAGUE, September 6, 2006 (RFE/RL) -- Today's meeting between the Afghan and Pakistani presidents comes amid a renewed Taliban insurgency and a rising number of militant attacks in Afghanistan.
The deteriorating security situation has led to renewed criticism against Pakistan for not doing enough to deal with militants in order to help quell the violence.
"Any instability inside Afghanistan means instability in Pakistan and any tension and fire inside Afghanistan will, without any doubt, be transmitted to Pakistan."
Afghan Foreign Ministry spokesman Sultan Ahmad Bahen told RFE/RL's Radio Free Afghanistan ahead of Pakistani President Musharraf's visit that cooperation in the fight against terrorism will be discussed.
Fighting Terror
"The discussions will be on security, Pakistan's role in reconstruction, regional cooperation, and other bilateral issues," he said. "We have always said that Pakistan can do more than it's doing now. We are always hopeful that Pakistan will cooperate more on the issue of terrorism. It needs to cooperate with Afghanistan and the international forces in the elimination of the source of terrorism."
Pakistani Foreign Office spokeswoman Tasnim Aslam told Radio Free Afghanistan that the two leaders will exchange views on bilateral relations, economic cooperation, and also cooperation in the war on terror.
"They would also discuss the reconstruction activities that Pakistan is undertaking in Afghanistan," she said. "They will discuss how to increase their cooperation and collaboration in the fight against terrorism."
Border Problems
Afghan officials accuse their Pakistani counterparts of doing too little to combat militants, saying that pro-Taliban fighters cross into Afghanistan from Pakistan to carry out terrorist attacks. At the same time, Pakistani officials have said they believe insurgents in the Baluchistan Province have received munitions from smugglers in Afghanistan.
Aslam told journalists on September 5 that the Afghan government is not involved in destabilizing activities in Pakistan. Though she added that Afghan territory is being used for such activities.
She said Pakistan and Afghanistan have a long and complicated border and it is not easy to seal it.
Pakistani officials say they have deployed thousands of troops to secure the border. They also say they have killed militants and arrested several key Al-Qaeda figures.
Musharraf's trip to Kabul comes one day after his country signed an agreement with pro-Taliban militants in the tribal region bordering Afghanistan aimed at bringing peace.
Abdulahagh Daneshmand, the chairman of Ariana University in Peshwar, tells RFE/RL that it is also in Pakistan's interest to fight groups that are causing violence in Afghanistan.
"Any instability inside Afghanistan means instability in Pakistan and any tension and fire inside Afghanistan will, without any doubt, be transmitted to Pakistan," he said.
Hoping To Improve Ties
Daneshmand said he is hopeful that Musharraf's visit can remove some of the misunderstandings and bring the two countries closer.
But some Afghan publications have expressed doubt that the visit will have any real impact.
The "Kabul Weekly" said that while many Afghans have high hopes for President Musharraf's visit, there is also the concern that the visit will end up being just another formality.
The Afghan daily "Cheragh" said the aim of the visit seems to be an effort by the United States to bring the two leaders closer together, but added: "as previous experiences have shown, Pakistan's pledges have remained on paper without being implemented."
Musharraf and Karzai last met in Islamabad in February, when Karzai urged the Pakistani president to do more to fight Taliban militants.
Meet With NATO Chief?
The Afghan president had reportedly given Musharraf a list of suspected Taliban members that Kabul believed were hiding in Pakistan and carrying out attacks in Afghanistan.
But Musharraf said the information was incorrect and outdated.
Musharraf arrived today in Kabul for a two-day trip with a high-level delegation that includes several cabinet ministers and the head of Pakistan's intelligence agency.
Musharraf is due to meet President Karzai later today. He is also due to address cabinet members, parliamentarians, and other officials, including mujahedin figures on September 7.
Musharraf was last in Afghanistan in 2002. It is not clear whether he will also meet visiting NATO Secretary-General Jaap de Hoop Scheffer, who also arrived in Afghanistan today.
De Hoop Scheffer said today that the battle against Taliban insurgents "must be won and will be won."
(RFE/RL correspondent Golnaz Esfandiari, Radio Free Afghanistan's Ayesha Khan, and RFA's Peshawar correspondent Fereydun Ibrahimi contributed to this report.)
The Afghan Insurgency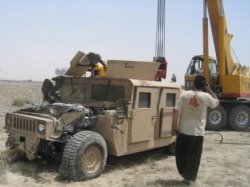 A U.S. military vehicle damaged by insurgents near Kandahar (epa)
HOMEGROWN OR IMPORTED? As attacks against Afghan and international forces continue relentlessly, RFE/RL hosted a briefing to discuss the nature of the Afghan insurgency. The discussion featured Marvin Weinbaum, professor emeritus of political science at the University of Illinois at Urbana-Champaign, and RFE/RL Afghanistan analyst Amin Tarzi.
LISTEN
Listen to the entire briefing (about 83 minutes):
Real Audio
Windows Media
ARCHIVE
RFE/RL's
coverage of Afghanistan
.
SUBSCRIBE
For weekly news and analysis on Afghanistan by e-mail,
subscribe to "RFE/RL Afghanistan Report."