Schools in the Bryansk, Kaluga, Smolensk, and Belgorod regions have incorporated classes centering on Orthodox Christianity into their curriculums. The course will be offered as an elective subject in another 11 regions.

Church And State Inseparate
The inclusion of the compulsory courses strays from the official stance of secularism in Russia -- a country that is still dealing with the Soviet Union's endorsement of atheism. The Russian Constitution explicitly endorses the separation of church and state.

Valentina Molikova of Bryansk Oblast's General and Professional Education Department told "The Moscow Times" of August 31 that the course will cover such topics as art and the environment, and will also address social issues such as violence and drug abuse.

Svetlana Kalshnikova, deputy head of Belgorod Oblast's Education and Science Department, told the paper that the focus of the endeavor is not about teaching religion, but about "studying Orthodoxy as a traditional national culture."

But some representatives of other religions are not convinced.

Balancing Act
The chairman of Russia's Council of Muftis, Ravil Gainutdin, says the introduction of such coursework could threaten the relative stability that Russia's various religious communities currently enjoy.

Especially, he says, in areas with large Muslim populations such as the Republic of Tatarstan.

"The Council of Muftis has a firm opinion on this topic that has never changed," Gainutdin told RFE/RL. "We have been saying the same thing for years. We fully agree with Tatar President Mintimer Shaimiyev, who has said that if somebody were try to introduce [such religious] lessons by force and by breaking the law, it would be a great mistake and would lead to the destruction of inter-religious stability in Russia. We [the Council of Muftis] support this [Shaimiyev's] point of view"

Ravil Yakhyayev, who heads the Tatar community in Kaluga Oblast, is upset by the move. He says adherents of Russian Orthodoxy receive favorable treatment in Russia.

"To put it bluntly, everything is based on Orthodoxy," Yakhyayev said. "Of course, our community is not very happy about that because not every [religious] community is given equal opportunities."

Nadezhda Rassadina, a representative of Kaluga Oblast's Jewish community, shares Yakhyayev's view. She says that some schools are forcing pupils to attend religious classes that were intended to be elective.

"As a representative of a Jewish community, I consider that even if these lessons are elective, they should teach not just the basics of Orthodox culture but the basics of other world religions, too," Rassadina said.

Educational Values
Others question the educational value of the new courses.

Gleb Yakunin, a Russian Orthodox priest and former dissident, tells RFE/RL that there are too many conservative elements in the Orthodox Church. He fears some church representatives will attempt to push their own religious interpretations and ignore more modern ideas.

Yakunin and others are also concerned that the end result will be that more young people will be scared away from the church than attracted to it.

An opinion poll conducted in 2001 by the Moscow-based Public View foundation found that just 18 percent of Russian citizens regularly attend services at a church or a mosque, although 53 percent of the respondents said they consider themselves Orthodox Christians. The statistics were similar for nearly all major religions in Russia.

The perceived need to counter the effects of Soviet atheism might be one reason the idea to introduce religious coursework into Russian schools has found some unlikely supporters.

Igor Kavalevsky, who heads the Conference of Catholic Archbishops of Russia, is one of them.

"I personally support it and I know that the [Roman] Catholic Church in Russia has the same attitude," Kavalevsky said. "It is convinced that introducing the basics of Orthodox culture to schools will aid the religious education of young people and will do harm to no one."
The Russian Orthodox Church
The Russian Orthodox Church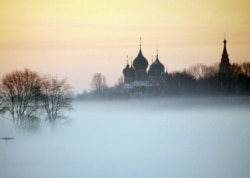 An Orthodox church in the Russian city of Yaroslavl (TASS file photo)

CHURCH AND STATE: The Russian Orthodox Church is not only Russia's major religious confession, but also a powerful force in the political and social life of the country. President Vladimir Putin and other leading figures are conspicuous adherents and frequently meet with senior members of the Church hierarchy. Increasingly in recent years the Church has sought to play a larger role in determining Russia's domestic and foreign policies. In April, the Church hosted a major conference devoted to the theme of Russia's role in the 21st-century world....(more)
RELATED ARTICLES
Orthodox Church Discusses Morality And Human Rights
Russian Church Blames Hate Crimes On Amorality
Orthodox And Catholics -- Heading Toward Reconciliation?
Rights Groups Say Country Intolerant To Minority Religions
Orthodox Church States Its Case For More Involvement In Foreign, Domestic Policies

WEB SPECIAL: A thematic webpage devoted to issues of religious tolerance in RFE/RL's broadcast region and around the globe