Speaking to reporters in Washington on September 7, Khatami said the current rift between the United States and Iran should be repaired through dialogue based on "mutual respect" instead of what he called "violent language."
Khatami said he believes "there could be some ground for talks between senior officials."
He also denied Tehran was pursuing a nuclear weapons program.
"There were efforts to access peaceful nuclear technology under my term, and they are continuing now," he said. "Iran is a member of the Non-Proliferation Treaty [NPT], and according to the NPT all member countries have the right to have this technology. There are ways to control that there are no deviations. Until now, the International Atomic Energy Agency has said in all its reports that there are no signs that Iran has deviated its program toward making nuclear weapons."
Khatami is the most senior Iranian to visit the United States since Washington cut diplomatic ties with Iran following the seizure in 1979 of the U.S. Embassy in Tehran.
What The Street Thinks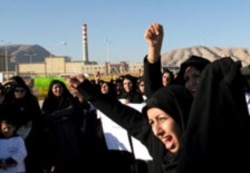 A demonstration in support of Iran's nuclear program outside the Isfahan uranium-conversion facility in Isfahan in January (epa)

IRANIANS SPEAK OUT ON THE DISPUTE: To find out more about what Iranians think about the international controversy over their country's nuclear program, RADIO FARDA asked listeners to express their views....(more)
See also:
Iran: Public Has Mixed Feelings On Nuclear Issue

THE COMPLETE PICTURE: RFE/RL's complete coverage of controversy surrounding Iran's nuclear program.
CHRONOLOGY
An annotated timeline of Iran's nuclear program.