Montenegro Arrests 12 On Terrorism Charges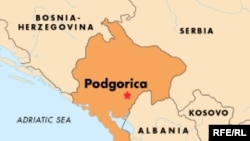 (RFE/RL) September 11, 2006 -- Montenegro's Interior Ministry today confirmed the arrest of 12 people on terrorism charges on September 9.
Spokesman Rajko Malovic said the accused had been preparing an attack aimed at provoking "interethnic tensions."
Among those arrested were several ethnic Albanians. No other details were provided.
Earlier reports spoke of 14 arrests.
(AFP)