Turkic Secret Services Discuss Counterterrorism Efforts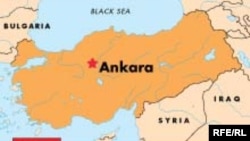 (RFE/RL) PRAGUE, 13 September, 2006 (RFE/RL) -- Representatives of the secret services of Turkey and the Turkic nations of Azerbaijan, Kazakhstan, and Kyrgyzstan today wrapped up consultations in Istanbul.
Kazakhstan's National Security Committee (KNB) said in a press release that the purpose of the three-day meeting was to identify ways to boost multilateral cooperation against international terrorist groups.
The KNB says observers from Russia, Ukraine, and Turkmenistan attended the talks.
(knb.kz)