"Once foreign forces leave Iraq, many of its problems will be solved," Khamenei said to al-Maliki, who is on a two-day visit to Iran.
Al-Maliki on September 12 met with Iranian President Mahmud Ahmadinejad, who pledged to help Iraq remain "united and independent."
In echoing remarks, Khamenei said he hoped the day would come "when the Iraqi nation reaches the status it deserves."
U.S. officials have accused Iran of fostering chaos among Iraq's Shi'ite majority.
Tehran has rejected the charge. It has in turn said the U.S. military presence in Iraq is fueling instability in the Middle East.
Meanwhile, Iranian President Mahmud Ahmadinejad has arrived in Senegal, the first leg of a world tour that will also take him to Cuba, Venezuela, and New York.

The Iranian leader is expected to spend only a few hours in Dakar for talks with his Senegalese counterpart, Abdoulaye Wade.

He will leave Dakar on September 14 and fly to Cuba, where he is due to attend a summit of Nonaligned Movement leaders. He will then go to Venezuela.

Ahmadinejad also is scheduled to address the 61st General Assembly of the United Nations on September 19.

(Fars, IRNA, IRIB, PANA)

Iraq And Iran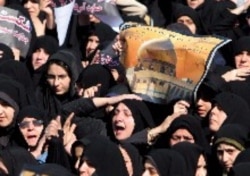 Iranian Shi'a protesting the Golden Mosque Bombing in Iraq on February 24


WHAT IS GOING ON? On March 8, RFE/RL's Washington office hosted a roundtable discussion on relations between Iraq and Iran. Although most analysts agree that Iran has been actively involved in Iraq since the U.S.-led military operation to oust former Iraqi President Saddam Hussein, they continue to debate the nature, extent, and intent of that involvement.
The RFE/RL briefing featured WAYNE WHITE, former deputy director of the U.S. State Department Bureau of Intelligence and Research's Office of Analysis for the Near East and South Asia, and A. WILLIAM SAMII, RFE/RL's regional analyst for Iran and editor of the "RFE/RL Iran Report."
LISTEN
Listen to the complete RFE/RL briefing (about 75 minutes):

Real Audio
Windows Media
RELATED ARTICLES
Iran/Iraq: Bilateral Ties Improving Despite U.S. Worries
Renewed Speculation About Tehran And Instability In Iraq
Iran/Iraq: Neighbors Mending Ties, But Outstanding Issues Remain
ARCHIVE
RFE/RL's
coverage of Iran
. RFE/RL's
coverage of Iraq
.