NATO spokesman James Apparthurai said NATO-led troops of the International Security Assistance Force (ISAF) have achieved "substantial success," although the mission is not yet completed.
"I can tell you that a significant proportion of the objective has now been taken," he said. "In fact, over two-thirds of the objective has been taken, ISAF forces are moving forward. They are moving forward carefully because much of the area has been mined by the Taliban with IEDs [improvised explosive devices] and boobytraps."
Apparthurai also said NATO commanders in Afghanistan are confident they have sufficient forces "in the theater" in Helmand.
There was no formal offer made today to to reinforce NATO troops in Afghanistan.
Meanwhile, NATO spokesman Major Luke Knittig said today that suicide bombings have killed 173 people in Afghanistan since January.
Knittig said 151 of the victims were Afghan civilians, while the rest included NATO and U.S.-led coalition forces and Afghan authorities.
Also, dozens of people were reported killed in fighting across the country during the past 24 hours.
Afghan authorities say 30 Taliban militants, including foreigners, died in an operation in the southeastern province of Ghazni today. Sixteen rebels were reported killed in the province on September 12.
In southern Helmand Province, police say they killed 16 militants in a battle that began on September 12.
Taliban fighters, meanwhile, attacked a police convoy in the western province of Farah. Officials say four police and four insurgents were killed in the battle.
(with agency reports)
The 'Lion Of Panjshir'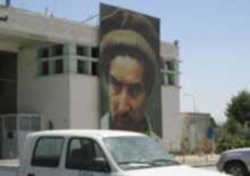 A portrait of Ahmad Shah Mas'ud adorning Kabul's international airport long after his 2001 assassination (AFP)
LARGER THAN LIFE Ahmad Shah Mas'ud gained international notoriety during the Taliban rule (1994-2001) as the leader of the only military group that the hard-line regime failed to crush. The public stature of the United Front (aka Northern Alliance) commander arguably reached its zenith after he was assassinated by Al-Qaeda killers posing as journalists on September 9, 2001. (more)
RELATED ARTICLES
Interview: Afghan Vice Presidential Candidate Speaks With RFE/RL
Afghanistan: Report Of Mas'ud's Demise Unleashes Speculation On Region's Future
Afghanistan: Talk Of Strikes Throws Lifeline To Opposition
SUBSCRIBE
For weekly news and analysis on Afghanistan by e-mail,
subscribe to "RFE/RL Afghanistan Report."