It began in June with the
resignation
of former Prosecutor-General Vladimir Ustinov. And now it has claimed the scalps of high-ranking officials within the Russian presidential administration, government, parliament, Prosecutor-General's Office, and Customs Service.
Among these officials are previously "untouchable" senior officers within the Federal Security Service (FSB). Between September 13-18, the Russian media reported the resignations of Sergei Shishin and Vladimir Anisimov, both colonel generals in the FSB, and both former heads of the FSB's Department of Internal Security, known as the "FSB within the FSB." The current head of the department, FSB Lieutenant General Aleksandr Kupryazhkin, has now also lost his job. Also given his marching orders was another unnamed senior official within the Putin administration responsible for personnel issues and his counterpart in the cabinet staff.
Several deputies of former Prosecutor-General Ustinov along with other leading figures in the office have also lost their positions, including Dmitry Shokhin and Kamil Kashaev, who were state prosecutors in the case against oil giant Yukos.
The charges? All of the officials were accused of abuse of office or covering up a case, the so-called Three Whales affair.
Three Whales
Three Whales is a furniture import company, which has been under suspicion for dealing in contraband. On September 15, Prosecutor-General Yury Chaika flew to Sochi to brief Putin about the investigation's progress. He told Putin that almost all security and law-enforcement agencies were involved in criminal activities connected to the case and the subsequent cover-up and that the present wave of purges against the "siloviki," Putin's inner circle of former FSB colleagues, should continue.
On June 15, speaking in Shanghai, Putin told journalists about his personal involvement in the case. He said that because he cannot trust the central apparatus of Moscow's law-enforcement agencies, he had asked that Vladimir Loskutov, an investigator in Leningradskaya Oblast and a former classmate of Putin, to take on the case.
What Putin didn't explain was why the Russian president would pay so much attention to such a mid-level case. In fact, the Three Whales case is unprecedented in post-Soviet Russia in terms of how many high-ranking officials allegedly acted with such impunity.
Furniture Company Probe
The case began as an ordinary contraband probe in October 2000, when Captain Pavel Zaitsev, an investigator in the Moscow Interior Ministry, filed a criminal case against a furniture company, Liga Mars and its showrooms Three Whales, owned by Sergei Zuev, and Grand.
Zaitsev suspected that the company was also illegally smuggling weapons and oil and laundering money. At the same time, Customs Service inspectors Oleg Volkov and Marat Faizulinn opened a parallel investigation of some of its agency's members they suspected of being involved in dubious import deals with France, Italy, and Germany. They also asked their Western counterparts to probe the deals from their side.
The backer of Three Whales is FSB Deputy Director General Colonel Yury Zaostrovtsev and his father, Yevgeny, a retired FSB major general who was responsible for Grand's security. Zaostrovtsev senior was also a KGB boss of current FSB head Nikolai Patrushev. Zaitsev also discovered that corrupt Russian officials were attempting to launder hundreds of million of dollars through Liga Mars and the Bank of New York in the 1990s.
"Do not tell me fairytales about the independence of judges. Until we will see a fair trial, the documents of the case will be eliminated, [and] witnesses intimidated or killed."
The reaction to Zaitsev's investigation came almost immediately. At the end of November 2000, the Prosecutor-General's Office ordered Zaitsev to halt the investigation and confiscated files relating to the case. Before it happened, Zaitsev and his colleagues in the Interior Ministry tapped phone conversations between Zuev and high-ranking FSB officers.
They learnt that those under investigation had paid $2 million to Prosecutor-General's Office officials to have the investigation stopped, "Novaya gazeta" reported in November 2002. Indeed in May 2001, Yury Buryukov, a first deputy prosecutor-general, signed a directive stopping the Three Whales investigation citing a "lack of criminal evidence." At the same time, the Customs Service investigation led by Volkov and Faizulinn was also halted. To complicate matters further, the Prosecutor-General Office's filed criminal cases against Zaitsev, Volkov, and Faizulinn accusing them of "abuse of office" and "violating the human rights of those under suspicion."
Shchekochikhin Case
One of Russia's leading investigative journalists, Yury Shchekochikhin, a parliamentary deputy who was then deputy chairman of the Duma Security Committee, together with his colleague, Aleksandr Gurov, a police general who made his name fighting organized crime in the 1980s, launched a parliamentary inquiry into the case in March 2002. But then Prosecutor-General Vladimir Ustinov and Buryukov rejected all accusations of corruption and said that the investigation was closed for legitimate reasons. The Prosecutor-General's Office also rebuffed the attempts of then Interior Minister Boris Gryzlov and the head of the Customs Service chief to intervene on the side of the investigators.
Eventually, Shchekochikhin, Gurov, and former FSB head Nikolai wrote to Putin directly in April 2002 asking him to intervene. Putin took the case under his wing, but as Shchekochikhin wrote in "Novaya gazeta" in June 2003 "nothing happened." Shchekochikhin wrote that while in Europe and the United States, the partners of Three Whales were arrested and prosecuted, the Russian law enforcement authorities had stopped even responding to their Western counterparts' inquiries. Shchekochikhin wrote: "Do not tell me fairytales about the independence of judges. Until we will see a fair trial [in this case], the documents of the case will be eliminated, witnesses intimidated or killed, and investigators themselves prosecuted."
A month after the publication of this article Shchekochikhin was dead. The official verdict was that he died from a mysterious allergy, but friends and colleagues have alleged that he was poisoned because he had collected unique information on the Three Whales case and was about to hand it over to the Western investigators (see sidebar).
Since then, a number of predictions Shchekochikhin made in print about the case have come true.
Zaitsev himself was reined in, when in November 2003 he was sentenced by a Moscow court for two years on probation for abuse of the human rights of suspects who he investigated. The suit was filed by the Prosecutor-General's Office. Presently, Zaitsev is waiting for a decision on his appeal at the Strasbourg-based European Court of Human Rights.
Volkov and Faizulinn, the senior Customs Service inspectors, were charged with abuse of office, lost their jobs but were eventually acquitted. The judge who acquitted them received death threats about him and his family.
In 2003, retired Navy officer Mikhail Pereverseev, a president of a furniture business association, was killed in a gangster-style assassination while lying in the maximum security Burdenko Central Military Hospital in Moscow. He was a key witness in the case against Three Whales.
In 2003, the Mercedes of Andrei Saenko, another key figure connected with the Three Whales company, who shot at. Saenko's driver was killed and Saenko was seriously injured.
Another valuable witness, whose identity was not revealed and who was hidden in a secret Interior Ministry "safe house," was shot and seriously injured.
In 2004, Olga Kudeshkina, a judge in a lower court that found Zaitsev not guilty, lost her job. She said she was subject to pressure from Russia's Supreme Court.
In 2004, the former director of Customs Service Mikhail Vanin and his deputy, Colonel General Boris Gutin, who initiated their agency's investigation, lost their jobs. Their agency was completely disbanded. Gutin, who since then was elected to the Federation Council, Russia's upper house of parliament, was accused by chamber speaker Sergei Mironov of corruption and lost his seat.
On June 15, the Prosecutor-General's Office reopened the Three Whales case and arrested five people, including Zuev. According to media reports, however, from the initial 200 volumes of files, now only 20 remain. Commenting on the reluctance of the Kremlin to investigate this case, Gurov told NTV on June 18 that it was forced to resume it now because foreign intelligence agencies have files on the case.
At least two conclusions can be drawn from the recent purging of the security agencies in connection with the Three Whales case.
First, serious infighting is under way within the siloviki, who are the main pillars and guarantors of Putin's power. The infighting does not pit agency against agency, but has instead created deep internal rifts in almost every security body. Until now Putin has tried to restore the balance of power within the security community and purge it of its most corrupt elements. That is a risky business, putting Putin between two conflicting groups of siloviki.
Second, it also shows once again the depths corruption has infested Russia's judiciary and law-enforcement bodies -- the very bodies that are tasked with protecting society often end up posing more of a threat.
Death Of A Journalist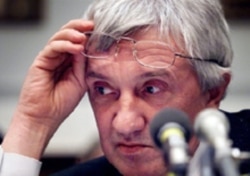 (AFO)
A 'VERY RARE' ALLERGY? It has been more than three years since the death of Yury Shchekochikhin, the noted investigative journalist and deputy chairman of the State Duma security committee. Officially, Shchekochikhin died of the acute symptoms of what medical officials deemed a "very rare" allergy. But his family and former colleagues allege he died of unnatural causes tied to his personal investigation into the "Three Whales" corruption case.
Before his death in a Moscow hospital on July 3, 2003, Shchekochikhin said he had been repeatedly threatened in connection with the case, and that his contacts in the Federal Security Service, or FSB, had warned him his life was in danger. They provided him with bodyguards -- a measure that, in the end, could not prevent his death in the city's Central Clinical Hospital, of massive fluid buildup in his brain and respiratory system.
The source of Shchekochikhin's troubles was an article he published in early 2002 in "Novaya gazeta," the twice-weekly newspaper where he served as deputy editor. In the article, he accused specific members of the Prosecutor-General's Office with attempting to block an investigation into allegations that two major furniture outlets -- Three Whales and Grand -- had bilked the state out of $20 million in import duties by falsifying the weight and purchase price of its goods.
A month before his death, Shchekochikhin met with officials from the U.S. Federal Bureau of Investigation to discuss the possibility that Three Whales was tied to another massive corruption scandal -- the Bank of New York money-laundering case. U.S. investigators accused Russia of laundering billions of dollars through BONY in 1998-99.
Three Whales, Shchekochikhin alleged, had been among the businesses illegally channelling its millions through the bank's accounts. He had received a U.S. visa with the aim of testifying in the case, as well as in the corruption case implicating then-Atomic Energy Minister Yegveny Adamov. But he never got a chance to use it.
Further, Shchekochikhin uncovered what he said were links between the Russian Supreme Court and the Prosecutor-General's Office in prosecuting the Interior Ministry investigator looking into the Three Whales case, Pavel Zaitsev. Shortly afterward, Shchekochikhin was dead. A legal probe into his death has never been conducted, despite numerous requests. All information regarding his death has been deemed a "medical secret," and without an established cause of death, an investigation into possible foul play cannot be opened.