No
official reason for the resignation
was given and Russian lawmakers didn't seem too bothered about finding out. Duma Deputy Aleksandr Khinshtein, also an investigative journalist with connections within the law enforcement community, told NTV on June 4 that the Federation Council "voted for Ustinov's retirement without asking questions just as it will approve any candidate for this office that Putin proposes, even if it would be his Labrador, Connie."
Ustinov's resignation was surprising because of his notorious loyalty to Putin and because of the special role the Prosecutor-General's Office has played under Putin, periodically targeting the president's political opponents.
Loyalty To Putin
Few people among the Russian ruling elite were as faithful to Putin as Ustinov. "Ustinov is prepared to perform, to the best of his abilities, absolutely any task given to him by the Kremlin," Khinshtein said on NTV.
Entering office as the acting prosecutor-general in the summer of 1999, Ustinov was instrumental in Putin's rise to power later that year. Ustinov presided over the investigation of the explosions in residential buildings in Moscow and Volgodonsk in September 1999, which helped justify the second war in Chechnya but left the public with unanswered questions about the purported role of the federal security services in these events.
After being confirmed by parliament in 2000, Ustinov and his office were entrusted with a raft of sensitive cases: the "Kursk" nuclear-submarine disaster in 2000, the attack on Moscow's Dubrovka theater in 2002, and the 2004 hostage taking in Beslan. For his good service in the investigation of these cases, Putin awarded Ustinov the "Hero of Russia" medal.
Oligarchs
But Ustinov's career really took off as the Prosecutor-General's Office became Putin's weapon of choice against his political opponents. Ustinov became a driving force in the country's "anti-oligarch" campaign. In 2000, the office forced former oligarchs Vladimir Gusinsky and Boris Berezovsky into exile. In 2003, Ustinov's office started proceedings against oil-giant Yukos and its then CEO, Mikhail Khodorkovsky. As a result, Khodorkovsky received an eight-year prison sentence for financial crimes; other senior Yukos officials also received sentences or were forced into exile.
The Kremlin took the spoils of victory, with the new oligarchs, the so-called "siloviki" -- made up mostly of former members of the security services -- taking over the assets of targeted companies. Ustinov is a member of the siloviki faction.
So why did the Kremlin get rid of such a loyal and useful ally?
Ostensibly, Ustinov's downfall can be linked to a recent chain of corruption cases, which have targeted both security and law enforcement agencies, and the bureaucracy.
And the Prosecutor-General's Office has also lost a number of high-profile cases, including the inability -- or half-heartedness -- of Ustinov to secure the extradition of Putin's rival, Berezovsky, from the United Kingdom.
Kremlin Intrigue
But some Kremlin watchers think Ustinov's resignation has more to do with infighting between the siloviki faction, led by deputy presidential-administration head Igor Sechin, and the so-called Liberals, led by First Deputy Prime Minister and possible presidential hopeful Dmitry Medvedev.
A theory that has gained more currency in Russia is that the move against Ustinov is part of Putin's succession plans for 2008, when his presidential mandate runs out.
Putin, so the theory goes, is switching his focus from the anti-oligarch campaign to targeting corruption. Analysts have suggested the president is concerned that pervasive corruption will hamper his chances of consolidating his power base in the run-up to 2008.
In that regard, Ustinov might well have been seen as a man of the past. According to Gleb Pavlovsky, an adviser to Putin's chief of staff Sergei Sobyanin and the head of the Effective Policy Foundation, "Ustinov more and more looks like a general making preparations for a past war," NTV reported on June 4. He had become bogged down in fighting against business oligarchs, without paying any attention to the oligarchs among the siloviki and the state bureaucracy, he added.
The appointment of a new prosecutor-general should shed more light on Putin's plans.
In the past, Soviet leaders, in particular KGB chief Yury Andropov, whom Putin openly admires, used anticorruption drives to consolidate their power. Putin's present campaign may be a similar bid.
Expert Commentary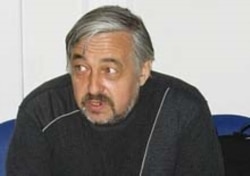 Vladimir Pribylovsky (RFE/RL)
INTERVIEW:
RFE/RL's Russian Service asked Moscow-based political analyst
VLADIMIR PRIBYLOVSKY
to comment on the June 2 dismissal of Prosecutor-General Vladimir Ustinov. Pribylovsky is the director of the Panorama think tank.
RFE/RL: Were you surprised by Ustinov's removal?
Vladimir Pribylovsky: We have the kind of prosecutor-general about whom it should be asked why he wasn't dismissed earlier. Generally, I think this dismissal is connected with the clan struggle and signifies, most likely, a tactical or strategic defeat for one of the St. Petersburg groups, specifically the one associated with [deputy presidential administration head] Igor Sechin, who is the prosecutor-general's [relative]. [Sehchin's daughter] Inga Sechina is the wife of [Ustinov's son] Dmitry Ustinov.
RFE/RL: And how can this defeat be explained?
Pribylovsky: It would appear that the power within the coalition of groups around [President Vladimir] Putin has changed -- the so-called Putin's team. Some weight must have tipped the balance and the president finally decided that it was time to advise Ustinov to leave. In general, there are a lot of people seeking that post.
RFE/RL: Now there are reports that [presidential envoy to the Southern Federal District] Dmitry Kozak will be appointed prosecutor-general and Vladimir Ustinov, most likely, will be sent as ambassador to the European Union.
Pribylovsky: In theory that is possible. Naturally that would be an honorable exile for Ustinov. As far as Kozak is concerned -- he is one of the two most likely candidates for the post. The other is Aleksandr Konovalov, the presidential envoy to the Volga Federal District. His name came up fairly recently as a possible prosecutor-general -- came up in informal conversations, naturally. But Konovalov is a friend of Nikolai Vinnichenko, and Nikolai Vinnichenko is a friend and former classmate of [First Deputy Prime Minister] Dmitry Medvedev. Therefore, such an appointment is possible. Although the appointment of Kozak is also possible. Both of them are associated with the so-called group of Petersburg lawyers, although Kozak is more or less on the periphery of that grouping. It can't be said that he is Medvedev's vassal, as it can be of Konovalov or Vinnichenko.
RFE/RL: You said that it is surprising that Ustinov wasn't fired earlier. Why?
Pribylovsky: The situation here regarding the oversight of the law enforcement agencies, regarding crime, for which the prosecutor-general is responsible, leaves much to be desired. And Ustinov's tenure has not improved a thing.

SUBSCRIBE
For news and analysis on Russia by e-mail, subscribe to "RFE/RL Russia Report."