Safety Violations Blamed For Kazakh Mine Accident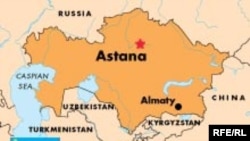 (RFE/RL) September 26, 2006 (RFE/RL) -- The Kazakh government says safety violations are likely responsible for an accident that killed 41 coal miners and wounded six in the central town of Shakhtinsk last week.
In a statement released today, Prime Minister Daniyal Akhmetov's office says those are the preliminary conclusions of the government commission that is investigating the accident.
The statement quotes Akhmetov as saying that all those responsible for the tragedy would be prosecuted.
The Lenin coal mine, where the accident occurred, is operated by Mittal Steel Temirtau. Mittal Steel Temirtau is a subsidiary of the world's largest steel producer, Mittal Steel.
Dozens of coal miners today observed the second day of a strike in Shakhtinsk.
Trade union leaders say work nearly stopped at four mines.
The protesters demand safer working conditions and higher salaries.
(with material from Interfax-Kazakhstan, Kazakhstan Today)