Taliban attacks in Afghanistan have been on the rise all year, and Karzai has accused Pakistan's president, General Pervez Musharraf, of doing too little to prevent the Taliban from using that country as a safe haven.
But Bush said after meeting with Karzai that the two leaders are mounting an effective fight against terrorists.
Support For Both Afghanistan And Pakistan
Bush said Afghanistan and Pakistan are working hard together to defeat the Taliban and Al-Qaeda, which have been terrorizing these and other countries since long before the attacks in the United States on September 11, 2001.
At a White House news conference with Karzai after their meeting, Bush spoke about a U.S. intelligence report, recently leaked to the media, that said the war in Iraq had made the United States more vulnerable to acts of terror because it has helped recruit new adherents to militant Islamic groups.
"President Karzai and President Musharraf and I will have dinner," Bush said. "It is going to be an interesting discussion among three allies, three people who are concerned about the future of Pakistan and Afghanistan."
Bush said it would be naive to think that fighting terrorism makes Americans more vulnerable, and that terrorists were active long before the attacks five years ago.
"My judgment is, if we weren't in Iraq, [terrorists] would find some other excuse because they have ambitions," Bush said. "They kill in order to achieve their objectives. You know, in the past, Osama bin Laden used Somalia as an excuse for people to join his jihadist movement. In the past, they used the Palestinian-Israeli conflict. It was a convenient way to try to recruit people to their jihadist movement."
Karzai agreed, saying his country, too, had been the victim of what he called the terror of the Taliban government until it was toppled during the U.S.-led invasion of Afghanistan.
Karzai Says No Quick Victory
One reporter asked Karzai about his government's fight against the resurgent Taliban and Al-Qaeda, and whether it has adopted a new strategy. He replied that the existing strategy of his government and the NATO forces in Afghanistan already was "absolutely working."
But Karzai conceded that fight must go on, and he promised no quick victory.
"Now, we are at a stage of bringing more stability and trying to get rid of [the Taliban] forever," Karzai said. "The desire is to do it sooner, but a desire is not always what you get. So, it will take time, and we must have the patience to have the time spent on getting rid of them for good."
Karzai said he also wants to work with Musharraf to defeat the regional terrorist threat. He said their focus should be on closing madrasahs -- schools of Islamic instruction -- that he says preach more hate than religion. Most of the problematic schools, he said, are in Pakistan.
North Waziristan Treaty
Another source of tension between Karzai and Musharraf is a treaty involving North Waziristan, a mountainous region of Pakistan bordering Afghanistan. Karzai said his initial impression was that Musharraf had signed a deal allowing the Taliban and Al-Qaeda to operate in North Waziristan with impunity.
Musharraf said on September 22 in Washington that the treaty wasn't with the Taliban, but with tribal leaders in the region. And the Pakistani leader stressed that the pact is meant to prevent any Taliban or Al-Qaeda operations in the region.
At the September 26 White House news conference, Karzai said he now shares that interpretation of the agreement, and that he hopes it will work in the long run.
"The most important element here is item No. 1 in this [Pakistan-tribal leaders] agreement -- that the terrorists will not be allowed to cross over into Afghanistan to attack the coalition against terror, that is the international community in Afghanistan together," Karzai said. "We will have to wait and see if that is going to be implemented exactly the way it is signed."
For his part, Bush said any perceived tensions between Karzai and Musharraf haven't so far kept their two countries from fighting terrorism effectively and searching for bin Laden, the Al-Qaeda leader who is widely believed to be hiding in Pakistan.
Bush noted that he will host a dinner for both Karzai and Musharraf on September 27, where all three will plan a way to fight terrorism.
"President Karzai and President Musharraf and I will have dinner," Bush said. "I am looking forward to it. It is going to be an interesting discussion among three allies, three people who are concerned about the future of Pakistan and Afghanistan. It will be a chance for us to work on how to secure the border, how we can continue to work together and share information so we can defeat extremists, how we can work together to build a future of peace and democracy."
The Opium Problem
Karzai said his government also is working hard to end the cultivation of the opium poppy in Afghanistan, which now accounts for an estimated 90 percent of the world's supply.
As he did on September 25, Karzai called Afghanistan's opium problem an "embarrassment." And Bush praised the Afghan president for his candor in describing both the failures and successes in the fight against opium production.
Karzai made no excuses for the poppy production, but he explained that some farmers were driven to grow the crop because of drought and the country's unstable political climate that led to what he called "years of our desperation and lack of hope for tomorrow."
According to Karzai, some efforts against poppy production have been successful and some have failed. But he said his government will keep trying, and will always understand that it is the responsibility of Afghanistan -- not NATO -- to end opium production on its territory.
Opium In Afghanistan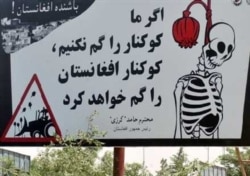 An antidrug billboard in Kabul shows a skeleton hanging from an opium bulb (AFP)
OPIUM FARMING ON THE RISE Despite a nationwide program by the Afghan government to eradicate opium-poppy fields and offer farmers alternative crops, international experts say that the 2006 opium crop will be as much as 40 percent larger than the previous year's. Afghanistan is the largest producer of opium in the world, and the source of as much as 90 percent of Europe's heroin.(more)
RELATED ARTICLES
Narcotics Supply Reduced, But Afghanistan Still Suffering
Saffron Could Help Wean Farmers Off Opium Poppies
Poppy-Eradication Drive Launched In Western Province
Insurgency Gains Ground As Poppy-Eradication Efforts Struggle
UN Drug Agency Promotes 'Alternative Development' For Curbing Poppy Cultivation
SUBSCRIBE
For weekly news and analysis on Afghanistan by e-mail,
subscribe to "RFE/RL Afghanistan Report."