Media Watchdog Condemns Attack On Kyrgyz TV Station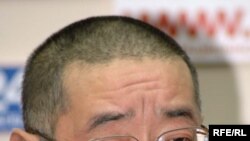 Piramida President Adylbek Biyanazarov speaking to reporters in Bishkek on September 28 (RFE/RL) PRAGUE, September 29, 2006 (RFE/RL) -- The Paris-based Reporters Without Borders (RSF) media watchdog today condemned this week's arson attack against Piramida, Kyrgyzstan's oldest independent television station.
RSF said in a statement that the incident "points to an escalation of threats against the media and a desire to prevent Piramida from operating."
On September 28, four masked attackers vandalized Piramida's offices on the outskirts of Bishkek, starting a fire that caused an estimated $200,000 in damages. They also beat up a guard and two technicians.
The television station was preparing to broadcast again after a month off the air when the assault took place.
Piramida President Adylbek Biyanazarov has suggested that the attack could be politically motivated.
RSF in its statement urged Kyrgyz authorities to protect Piramida representatives and do their utmost to find those responsible for the attack.