Officials say the bomber detonated his explosive device at the ministry's gate as staff was arriving for work. Many of the wounded are reported to be in critical condition.
Southern Afghanistan is experiencing the worst violence since the Taliban was ousted in 2001.
Violence In The Capital
But today's attack struck at the heart of the country's comparatively safer capital. It's the latest sign that the violence is creeping closer to Kabul, three weeks after an attack near the U.S. Embassy there killed 16 people.
As Interior Ministry staff was arriving for work today, a suicide bomber blew himself outside the building.
"A suicide bomber blew himself up at around 8 a.m. and caused many police and civilian casualties just here in front the Interior Ministry," said Alisha Paktiawa, a senior police official in Kabul:
Interior Ministry spokesman Zemarai Bashary said 12 people were killed and more than 45 wounded. But as many of them were wounded seriously, the death toll is expected to rise.
A Taliban commander, Mullah Hayat Khan, speaking by telephone to Reuters, claimed responsibility for the attack. The claim could not be verified.
The blast also damaged shops in the neighborhood, where residents and workers were busy cleaning up broken glass and shop fronts.
"I was about to enter my shop," said shop clerk Ahmad Shoib. "I heard a bang. I saw many wounded and dead bodies around me. Also I saw the body of my cousin here. I asked police to help us, then I was unconscious. I don't know what else happened and where the bodies have gone."
President Hamid Karzai told reporters in Kabul today that the bomber was an enemy of the entire country.
"In today's terror attack in Kabul against our people, 12 innocent Muslims, were martyred and several others wounded" Karzai said. "The people of Afghanistan have suffered at the hand of terrorism and many have been killed by the enemy of Afghanistan and terrorism. We are trying to bring this violence in our country to an end as soon as possible."
Karzai In The United States
The attack comes just after Karzai concluded a high-profile visit to the United States, his main ally.
Karzai had talks with U.S. President George W. Bush, as well as a White House dinner with Bush and Pakistan President Pervez Musharraf.
Speaking this week in Washington, Karzai thanked the United States for liberating Afghanistan from tyranny and terrorism.
"My message for the American soldiers in Afghanistan is that they have liberated us from tyranny, from terrorism, from oppression, from occupation, into a country that is now moving toward prosperity, that is, once again, the home of all Afghans." Karzai said.
Stability Still Elusive
Today's attack, however, appears to be another sign that peace and stability have yet to be firmly established in Afghanistan.
Before last year, suicide attacks were rare. But in Afghanistan's troubled south and east, there have been several suicide attacks in recent months as Taliban militants have gone on the offensive.
Now the violence, it appears, is moving north to the capital.
Afghanistan And Pakistan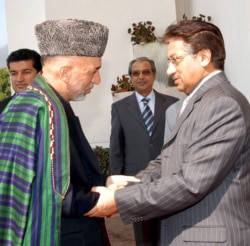 Afghan President Hamid Karzai (left) with Pakistani President Pervez Musharraf in Islamabad in October 2005 (epa)

ACROSS A DIFFICULT BORDER. The contested border between Pakistan and Afghanistan is some 2,500 kilometers long and runs through some of the most rugged, inhospitable territory on Earth. Controlling that border and preventing Taliban militants from using Pakistan as a staging ground for attacks in Afghanistan is an essential part of the U.S.-led international coalition's strategy for stabilizing Afghanistan. Officials in Kabul have been pointing their fingers at Pakistan for some time, accusing Islamabad or intelligence services of turning a blind eye to cross-border terrorism targeting the Afghan central government. Many observers remain convinced that much of the former Taliban regime's leadership -- along with leaders of Al-Qaeda -- are operating in the lawless Afghan-Pakistani border region.... (more)
RELATED ARTICLES
Pakistan-Afghanistan Conflicts Continue
Karzai, Musharraf Spar Ahead Of Bush Meeting
Musharraf Says Taliban Could Spark Pashtun 'National War'
Afghan Minister Attacks Pakistani Support For 'Terrorism'
Historical Context Of Afghan-Pakistani Relations
Afghanistan/Pakistan: 'Inseparable Twins' In Need Of Separation
ARCHIVE
RFE/RL
coverage of Afghanistan
. RFE/RL
coverage of Pakistan
.
SUBSCRIBE
For weekly news and analysis on Afghanistan by e-mail,
subscribe to "RFE/RL Afghanistan Report."