UN Envoy Sees No Negotiated Deal On Kosovo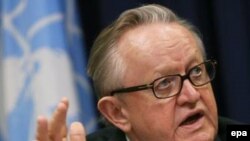 Martti Ahtisaari, the UN's special envoy to Kosovo (file photo) (epa) October 9, 2006 -- The UN special envoy on the status of Kosovo today said he does not think the ethnic Albanians and Serbs will be able to reach a negotiated settlement on the final status of the Serbian province.
Martti Ahtisaari told a seminar on Kosovo held at the Finnish parliament that "the parties remain diametrically opposed."
The negotiations on the future status of the province, which has been administered by the UN since 1999, began in February.
No concrete results have emerged so far.
(AFP)