Should the report prove accurate, it would appear to undermine Karimov's earlier claims that foreign-funded "terrorists" were solely responsible for the Andijon uprising.

Local activists and rights groups have long suggested that social and economic hardship contributed to the unrest.
An ITAR-TASS report posted on a pro-government Uzbek website today quotes Karimov as saying Governor Saidullo Begaliev's "short-sighted policies" and "lack of attention to the people's needs" were partly responsible for the unrest.

Karimov reportedly made the remarks while addressing the Andijon regional parliament on October 13.

The same day, Karimov appointed a senior Interior Ministry official, General Ahmad Usmonov, to run the region. But he gave no reason to explain his decision.
Uzbekistan's official UzA news agency says Karimov's criticism of the outgoing governor of Andijon was harsh, but it does not clearly suggest the Uzbek leader blamed Begaliev's shortcomings for the unrest. The agency quotes Karimov as making his regular claims that the Andijon events were organized by "international extremist groups."

Uzbek authorities say 187 people, including many security officials, died during the Andijon unrest.

Rights groups say the death toll was much higher and have demanded an independent probe of the events of Andijon.

The UN and European Union have similarly urged officials in Tashkent to allow an independent investigation.

(ITAR-TASS, press-uz.info, UzA, Uznews.net)
Andijon Anniversary Conference
Andijon Anniversary Conference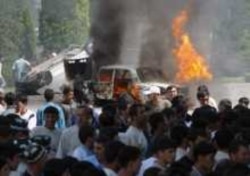 Violence in Andijon, Uzbekistan, on May 14, 2005 (epa)


TALKING ABOUT ANDIJON:
On May 9, 2006, RFE/RL, the National Endowment for Democracy, and U.S.-based human rights organizations cohosted a conference on the May 2005 events in Andijon and their aftermath in Uzbekistan and throughout the region. The first panel featured Andijon eyewitness
GALIMA BUKHARBAEVA
, National Endowment for Democracy Fellow
NOZIMA KAMALOVA
, RFE/RL Central Asia analyst
DANIEL KIMMAGE
, and others. The second panel featured presentations by U.S. Senator
JOHN MCCAIN
and U.S. Congressman
CHRISTOPHER SMITH
, who used the forum to announce they had introduced legislation calling for sanctions and other measures against the government of President Islam Karimov.
LISTEN
Listen to the Andijon conference. Part One (70 minutes):
Real Audio
Windows Media
Part Two (60 minutes):
Real Audio
Windows Media
The Uzbek government's response:
Real Audio
Windows Media


THE COMPLETE STORY: A dedicated webpage bringing together all of RFE/RL's coverage of the events in Andijon, Uzbekistan, in May 2005 and their continuing repercussions.
CHRONOLOGY
For an annotated timeline of the Andijon events and their repercussions, click here.