NATO spokesman Mark Laity says that about 120 British soldiers left the province's northeastern district of Musa Qala today following a "sustained period of calm" since the deal was reached in late September. Laity says Afghan troops remain in the area to provide security.

Under the accord, which is backed by Afghan President Hamid Karzai, tribal elders in Musa Qala have agreed to drive out Taliban fighters in exchange for an end to NATO military operations.
Muhhayudin Khan, a spokesman for Helmand Province Governor Mohammad Daoud, told RFE/RL today that the deal differs from one struck between Islamabad and pro-Taliban militants in Pakistan's tribal region of North Waziristan in September.
"Neither we nor the British have spoken to the Taliban about [the British withdrawal from Musa Qala]," the spokesman said. "It was the tribal elders alone who came and made the suggestion."
The top NATO commander in Afghanistan, British Lieutenant General David Richards, said today that the troops who left Musa Qala today will be sent to other parts of Afghanistan to provide security.
Early this year, when British forces began arriving in Helmand Province as part of an expanded NATO presence in southern Afghanistan, Musa Qala became the scene of some of the deadliest fighting in the country since the demise of the Taliban regime in late 2001.
NATO responded in the summer with a major offensive dubbed Operation Mountain Thrust -- which included ground and air operations that focused on Taliban strongholds in Musa Qala and other nearby parts of Helmand and Kandahar provinces.
RFE/RL's Radio Free Afghanistan correspondent in Helmand Province quoted a self-declared Taliban spokesman, Qari Yusuof, as saying today that Taliban fighters will attack British forces again if they return to Musa Qala.
(Contributors to this story include RFE/RL correspondent Ron Synovitz in Prague, Radio Free Afghanistan correspondent Salih Mohammad Salih in Lashkar Gah, and Radio Free Afghanistan's Hashem Mohmand in Prague. With additional wire reporting.)
Afghanistan And Pakistan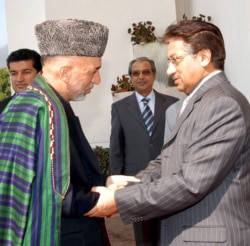 Afghan President Hamid Karzai (left) with Pakistani President Pervez Musharraf in Islamabad in October 2005 (epa)

ACROSS A DIFFICULT BORDER. The contested border between Pakistan and Afghanistan is some 2,500 kilometers long and runs through some of the most rugged, inhospitable territory on Earth. Controlling that border and preventing Taliban militants from using Pakistan as a staging ground for attacks in Afghanistan is an essential part of the U.S.-led international coalition's strategy for stabilizing Afghanistan. Officials in Kabul have been pointing their fingers at Pakistan for some time, accusing Islamabad or intelligence services of turning a blind eye to cross-border terrorism targeting the Afghan central government. Many observers remain convinced that much of the former Taliban regime's leadership -- along with leaders of Al-Qaeda -- are operating in the lawless Afghan-Pakistani border region.... (more)
RELATED ARTICLES
Pakistan-Afghanistan Conflicts Continue
Karzai, Musharraf Spar Ahead Of Bush Meeting
Musharraf Says Taliban Could Spark Pashtun 'National War'
Afghan Minister Attacks Pakistani Support For 'Terrorism'
Historical Context Of Afghan-Pakistani Relations
Afghanistan/Pakistan: 'Inseparable Twins' In Need Of Separation
ARCHIVE
RFE/RL
coverage of Afghanistan
. RFE/RL
coverage of Pakistan
.
SUBSCRIBE
For weekly news and analysis on Afghanistan by e-mail,
subscribe to "RFE/RL Afghanistan Report."