Iran's official IRNA news agency reported today that the Telecommunications Ministry has forbidden ISPs from providing online connections faster than 128 kilobytes per second and offering broadband packages.
The British daily "The Guardian" said the move is likely to make it more difficult to download Western music and films, which authorities blame for having a bad influence on Iranian youth.
The daily says the ban will also impede efforts by opponents of the Iranian regime to upload information on to the Internet.
Commenting on the new regulation, Iran's "Etemad-e Melli" (National Trust) reformist daily says it believes the limitations are part of a new clampdown on the media.
Iranian authorities have closed down dozens of reformist newspapers in recent years.
(IRNA, "The Guardian," Reuters)
The Iranian Revolution
Iranians demonstrate in Tehran on February 10, 1979, shortly after the return to Iran of Ayatollah Ruhollah Khomeini (epa)
THE ISLAMIC REPUBLIC: Iran's 1979 revolution ended 2,500 years of monarchy and established the world's first modern theocracy. In February 2004, on the 25th anniversary of that event, RFE/RL produced a special report on how the ensuing years have measured up to the expectations of those times.
"I had been freed from jail in those days, and I hoped that the [revolutionary] forces would bring democracy and progress for the country, despite the religious leadership that caused some doubts, I hoped that the press would be free, the books would be published without censorship, [political] parties, associations and civil society organizations would be formed, and I hoped that I would be able to write freely. In fact, in these 25 years, I have not seen anything but the death and silencing of those beautiful hopes and dreams," Faraj Sarkouhi, an exiled writer and journalist, told RFE/RL....(more)
ARCHIVE
RFE/RL's reporting on Iran.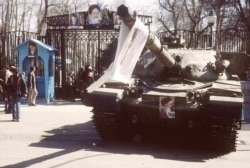 A tank bearing a portrait of Ayatollah Ruhollah Khomeini takes up a position in Tehran on February 12, 1979 (epa)