Russia's Upper House Regrets Crushing Of Hungarian Uprising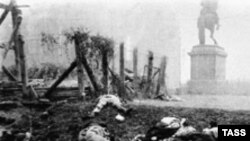 Bodies on a Budapest street after the suppression of the Hungarian Uprising (ITAR-TASS) October 20, 2006 -- The upper house of the Russian parliament, the Federation Council, today expressed its regret at the suffering caused by the Soviet Union's brutal suppression of the 1956 uprising in Hungary and the country's occupation by the Soviet army.
The chairman of the Federation Council, Sergei Mironov, said that while the Russian Federation is not responsible for the actions of the Soviet Union, it feels a moral responsibility for some aspects of the past.
Over 2,500 Hungarians were killed in during the uprising, and some 200,000 fled the country.
(ITAR-TASS, Rosbalt)



UPDATED CONSTANTLY: Visit RFE/RL's Russian-language website, featuring news, analysis, features, streaming audio, and more, in Russian, from RFE/RL's Russian Service.
ARCHIVE
RFE/RL's English-language
coverage of Russia
.