Hungary To Hold Nationwide Quiz On 1956 Uprising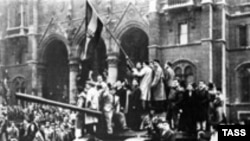 Hungarians pictured on top of a Soviet tank captured during the uprising (ITAR-TASS) July 19, 2006 -- Hungary's Education Ministry is organizing a nationwide quiz to test students' knowledge of the 1956 uprising, which was crushed by Soviet troops.
The top prize? A trip to Moscow.
The quiz's final round, to be held on October 23, coincides with the 50th anniversary of the uprising.
A ministry spokesman says the winners will hear lectures on the uprising based on original documents that can be found only in Moscow.
(Reuters)