The 10-point statement was issued October 20 at a meeting in the Muslim holy city of Mecca, sponsored by the Organization of the Islamic Conference (OIC).
Statement Urges End To Violence Against Muslims
The so-called Mecca Document forbids the "spilling of Muslim blood," kidnappings, the incitement of hatred, and attacks on religious sites.
It also calls on Iraqis to safeguard the "goods, blood, and honor" of Muslims; to free innocent people who have been abducted; and to allow displaced people to return to their places of origin.
OIC Secretary-General Ekmeleddin Ihsanoglu says the document was inspired by historic Islamic texts prohibiting fighting among Muslims.
"The senior clerics of the Muslim world that sent letters of approval or will send letters later agree that this fatwa is a religious ruling which must be implemented and followed," Ihsanoglu said. "And everyone who doesn't follow it will be held accountable by God. What more could you want? We don't have a magic wand, and we must understand reality."
But Will It Matter?
Hundreds of Iraqis have been killed in recent months in revenge killings between the Shi'ite and Sunni Muslim communities. Many others have been killed in attacks blamed on terrorist groups.
Some Iraqis say they believe the document will help end violence in the country. Others doubt all sides involved in the violence will respect it.
"It is a good thing," said Muayad Jassim, who lives in Baghdad. "However, I do not think that anyone will abide by it because gangs do not abide by any religious, ethical, or moral doctrine. So I do not think it will reap fruits in the near future."
Mohammad Abed Saleh, another Baghdad resident, is cautiously optimistic.
"We hope that all the sects of the Iraqi people will abide by the declaration, God willing, and we hope it will bring good for all the Iraqi people," Saleh said. "But we fear those who work for other sects and parties -- who are not Iraqis and who are not Sunni, Shi'a, or Kurd -- and who want to provoke sectarian strife among Iraqis."
In Al-Nasiriyah, some 300 kilometers southeast of Baghdad, about 2,000 people joined a rally to support efforts to reconcile Shi'ite and Sunni groups. Reports say the crowd chanted, "No to terrorism, yes to the Mecca edict," and "Stop the bloodshed."
Another Day Of Violence
But as Iraqis were calling for unity and a halt to the killings, violence continued. A suicide bomber blew himself up on a crowded bus in Baghdad, killing four people. Two civilians were shot dead by unknown gunmen south of the capital, while a car bomb apparently intended for an Iraqi police patrol killed four civilians in Baghdad.
The southern city of Al-Amarah was calm today, however. Fierce fighting on October 19-20 between police and the Al-Mahdi Army, loyal to radical cleric Muqtada al-Sadr, left at least 25 dead.
An envoy of Iraqi Prime Minister Nuri al-Maliki is meeting tribal leaders there in an effort to ease tensions.
Sectarian Iraq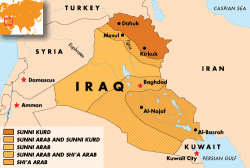 Click to enlarge the image.
SUNNI, SHI'A: Iraq is riven along sectarian lines, faults that frequently produce violent clashes and are a constant source of tension. Sectarian concerns drive much of Iraqi politics and are the main threat to the country's fragile security environment.


THE COMPLETE PICTURE: Click on the image to view RFE/RL's complete coverage of events in Iraq and that country's ongoing transition.