Rice In Moscow For North Korea Talks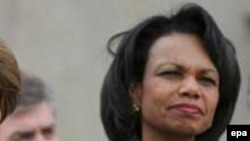 Secretary of State Rice (file photo) (epa) October 21, 2006 -- U.S. Secretary of State Condoleezza Rice has arrived in Moscow for talks on the North Korea nuclear crisis.
Rice told reporters on the flight from China that Beijing's special envoy, who visited North Korea earlier this week, said nothing to her about a reported North Korean pledge not to conduct any more nuclear tests.
North Korea's October 9 announcement that it had tested a nuclear bomb sparked a flurry of diplomatic activity.
The UN Security Council approved sanctions against North Korea on October 14.
Rice has already visited Japan, South Korea, and China to gather support for the UN sanctions and coordinate the diplomatic response.
(Reuters, AFP, AP)