Parvanov, Siderov Set For Bulgaria Presidential Runoff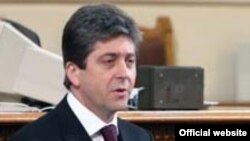 President Georgi Parvanov (file photo) (official site) October 23, 2006 -- Incumbent Bulgarian President Georgi Parvanov will face ultranationalist leader Volen Siderov in a runoff presidential election.
Final official results of the October 22 first round showed Parvanov winning 64 percent of the vote against 21.5 percent for Siderov.
But voter turnout was only 42.1 percent, below the 50 percent required for a first-round victory, setting up a runoff on October 29.
Bulgaria's next president will lead the country into European Union membership on January 1.
(compiled from agency reports)