Russia, Greece, And Bulgaria Revive Pipeline Project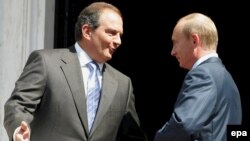 Greek Prime Minister Konstantinos Karamanlis (left) with Russian President Vladimir Putin (epa) September 4, 2006 -- The leaders of Russia, Greece, and Bulgaria today agreed to provide greater support to advance a stalled pipeline project to carry Russian oil from Bulgaria to Greece.
The declaration of support by Russian President Vladimir Putin, Greek Prime Minister Costas Karamanlis, and Bulgarian President Georgi Parvanov paves the way for an intergovernmental agreement by the end of this year.
The project will funnel Russian oil directly to southeastern Europe, bypassing Turkey's busy Bosphorus Strait. Russian oil will initially be transported by sea to the Bulgarian port of Burgas, and from there by pipeline to the Greek Aegean Sea port of Alexandroupolis.
From Athens, Putin is due to travel on to Cape Town to start an official visit to South Africa.
(Reuters, AP, ITAR-TASS)


UPDATED CONSTANTLY: Visit RFE/RL's Russian-language website, featuring news, analysis, features, streaming audio, and more, in Russian, from RFE/RL's Russian Service.
ARCHIVE
RFE/RL's English-language
coverage of Russia
.