Sweden Detains Russian Over Chechnya Kidnapping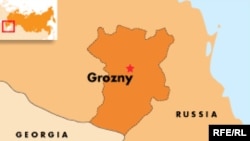 (RFE/RL) October 24, 2006 -- A Swedish court today detained a Russian man accused of being involved in the kidnapping of a photographer in Chechnya, pending an extradition request by Russian authorities.
The man, identified as Magomed Uspayev and also known as Maga Zakiyev, is accused of taking part in the 1999 abduction of Vladimir Yatsina, a photographer for the news agency ITAR-TASS.
Yatsina was later shot dead.
(AP, AFP)