Lukashenka To Visit Tehran In November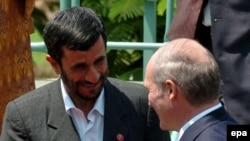 Iranian President Mahmud Ahmadinejad (left) with Belarusian President Alyaksandr Lukashenka at a meeting of the Nonaligned Movement in September (epa) October 26, 2007 -- Belarusian President Alyaksandr Lukashenka will visit Tehran in November.
No date for the trip was given.
Foreign Minister Syarhey Martynau, who has just returned from Iran, said Lukashenka's upcoming visit is intended to strengthen relations between the two states and to show solidarity with the Iranian leadership in the current international standoff over Iran's nuclear program.
(AFP, belta.by)