Just five hours before the end of voting, total turnout reached only 33 percent. Prime Minister Vojislav Kostunica and independent poll monitors warned that the vote could be invalid if current trends continued.
More than half of Serbia's 6.6. million registered voters need to vote "yes" for the constitution to be approved.
The government has praised the draft for its consolidation of democracy
and rule of law in this country that seeks to join the European Union.
The
document also declares the province of Kosovo -- whose majority ethnic
Albanian population wants independence -- to be an integral part of
Serbia. The province has been administered by the United Nations since
1999.
Mainstream parties have asked their supporters to vote,
with ultranationalists stressing Kosovo's fate and centrists
highlighting better safeguards on human rights and "European values." Some liberal parties are boycotting because they see the new constitution as vague and more nationalistic.
Voters
are being asked to simply vote "yes" or "no" to the proposed
constitution, which would replace the 1990 version passed when former
Serbian and Yugoslav President Slobodan Milosevic was in power.
'Serbia And Its People'
Casting
his ballot on October 28, one pensioner said the new constitution represented a
new beginning for the country, and that it "will bring great changes in
the sense of a new life for Serbia and its people."
Of course,
what is meant by "Serbia and its people" is not entirely clear as
voters in Serbia head to some of the more than 8,000 polling stations.
Though
the proposed constitution specifically lays claim to Kosovo as part of
Serbia, even officials in Belgrade have conceded that the document
cannot be enforced if the ethnic Albanians that make up over 90 percent
of Kosovo's population opt for independence.
Though the roughly
100,000 ethnic Serbs still living in Kosovo are eligible to vote in
the referendum on a new constitution, the 2 million Albanians living
there are not, as they have not been included in voter lists after
boycotting Serbian elections since 1990. By noon today, almost 50 percent of Kosovo's minority Serbs had cast their ballots.
In keeping with
Serbia's desire to join the European Union, another part of the new
constitution says: "The Republic of Serbia is the state of the Serbian
people and of all the citizens who live there. The state is based on
adherence to European principles and values."
The decision of
Montenegro, Serbia's last partner from the former Yugoslavia, in June
to declare its independence necessitated that Serbia adopt a new
constitution.
(compiled from agency reports)
The Kremlin Looks At Kosovo...And Beyond
The Kremlin Looks At Kosovo...And Beyond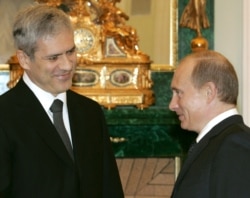 Russian President Vladimir Putin (right) greets Serbian President Boris Tadic in the Kremlin in November 2005 (TASS)
WILL THE KREMLIN BACK INDEPENDENCE? As the drive for independence grows in the Serbian province of Kosovo, the international community is speculating on how Russia, a veto-wielding member of the UN Security Council, will act. On September 22, Nicholas Whyte, director of the International Crisis Group's Europe Program, gave a briefing on the subject at RFE/RL's Washington, D.C., office. He speculated on what the Kremlin's "price" might be for agreeing to Kosovo's separation from Serbia.
LISTEN
Listen to the entire briefing (about 45 minutes):
Real Audio
Windows Media
RELATED ARTICLES
Referendums Seen As Kremlin's Master Plan
Independence Votes Popular In The Kremlin
Putin Warns Against Montenegro Model
How Does Moscow View Frozen CIS Conflicts?
Putin Calls For 'Universal Principles' To Settle Frozen Conflicts
ARCHIVE
RFE/RL's coverage of
Kosovo
and
Russia
.
SUBSCRIBE
For news and analysis on Russia by e-mail,
subscribe to "RFE/RL Russia Report."