Kyrgyz Lawmakers Send President, Prime Minister Ultimatum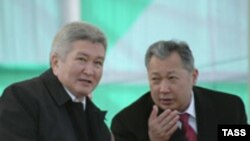 Kulov (left) and Bakiev: backs against the wall? (ITAR-TASS) November 1, 2006 -- Twenty-five of Kyrgyzstan's 71 lawmakers today issued an appeal that calls on President Kurmanbek Bakiev and Prime Minister Feliks Kulov to step down if no solution to the current dispute over constitutional and other reforms is found by November 2.
Among the signatories are five of the six opposition parliamentarians who took part in emergency consultations with Bakiev on October 31.
During the second round of talks that ended late in the evening, Bakiev reportedly agreed to send parliament a new draft constitution that would give more powers to the legislature.
But his opponents say he rejected most of their other demands. Those include calling early elections next year and turning state television into a public broadcaster.
The opposition has vowed to proceed with a planned protest rally in Bishkek on November 2.
(AKIpress, 24.kg)
RFE/RL Central Asia Report

SUBSCRIBE For regular news and analysis on all five Central Asian countries by e-mail,
subscribe to "RFE/RL Central Asia Report."