Russian assessments of the strength of the Chechen resistance have historically been approximate and contradictory, appearing sometimes to have been exaggerated or downplayed for purely political considerations.
The Russian daily "Kommersant," for example, on November 7 listed 14 separate estimates made between February 2000 and November 2006.
Questionable Accounting
In August 2005, Taus Dzhabrailov, then-chairman of the pro-Kremlin Chechen State Council, gave the number of fighters as "somewhere between 800-1,000." One month later, presidential envoy to Russia's Southern Federal District Dmitry Kozak said the number had recently increased to "around 1,500."
In mid-October, 2005, however, Colonel General Arkady Yedelev, commander of the Combined Group of Forces in the North Caucasus, cited a figure of just 800 fighters.
More recently, in the wake of the deaths of Sadulayev and Basayev, pro-Moscow Chechen officials have sought to portray the resistance as numbering only a few dozen men.
In August, Chechen Prime Minister Ramzan Kadyrov told "Nezavisimaya gazeta" that the resistance numbered no more than 50-60 men, while his deputy, Adam Delimkhanov, cited a figure of 60 Chechen fighters plus 20-30 "foreign mercenaries."
Several hundred Chechen fighters are said to have responded to Federal Security Service (FSB) Director Nikolai Patrushev's July appeal to lay down their arms and surrender. Even before the Russian State Duma formally adopted an amnesty in mid-September, up to 200 militants were said to have turned themselves in, with 50 fighters reportedly surrendering personally to Kadyrov in his home town of Gudermes on August 29 alone.
The deployment in early October of two platoons from the East and West battalions (predominantly composed of Chechen servicemen) to serve in the Russian peacekeeping contingent in Lebanon may similarly have been intended to send the message to the outside world that the war in Chechnya is definitively over.
Jumping The Gun?
But the record of military operations conducted by the Chechen resistance in September-October 2006, as posted on the websites chechenpress.org and kavkazcenter.com, tells an entirely different story.
Over that time period, resistance fighters have launched multiple operations on an almost daily basis, in which they claim to have killed or wounded dozens of Russian and pro-Moscow Chechen servicemen. In tacit corroboration of those claims, Colonel General Yevgeny Baryayev, who is commander of the Group of Federal Forces in the North Caucasus, admitted to a gathering of Russian military officials and Chechen government personnel in Grozny on October 12 that the combat situation was deteriorating.
Baryayev said the number of attacks and "acts of terrorism" by Chechen militants was on the increase, but did not divulge any casualty figures. He attributed the upsurge in resistance activity to their receipt of "a large sum of money."
Baryayev's comments followed Chechen Republic Ichkeria President and resistance commander Doku Umarov's appeal in September for Muslims worldwide to provide financial support. Umarov also issued instructions to his fighters in September on unspecified changes in tactics, according to kavkazcenter.com on October 29, although it is not clear whether there is any direct correlation between those orders and the upsurge in resistance activity over the past two months.
Speaking in Moscow on October 19, pro-Moscow Chechen administration head Alu Alkhanov likewise admitted that the security situation in Chechnya remains tense, and that militants have stepped up operations in several districts, "Nezavisimaya gazeta" reported on October 20.
Then, on November 3, Baryayev told a further meeting of security personnel in Grozny that young recruits are still flocking to joint the resistance ranks, and that Russian forces in southern Chechnya are using artillery against militant groups in the mountains in an attempt to pin them down, "Kommersant" reported on November 7.
Official Recognition
On November 6, Colonel Nikolai Varavin, who heads the press center of the Regional Operation Headquarters of the Antiterrorist Operation in Chechnya, admitted openly that the resistance "poses a serious threat" which, he implied, the Chechen police are not up to the task of containing. Several days earlier, Varavin was quoted by regnum.ru as saying that young men from Ingushetia and Daghestan are also signing up to fight with the Chechen resistance.
Although Varavin did not say so explicitly, the loyalty of many members of the Chechen police force -- especially former resistance fighters who took advantage of earlier amnesties and were subsequently offered employment by Prime Minister Kadyrov in his so-called presidential guard regiment -- is open to question. Several months ago, Akhmed Zakayev, the London-based foreign minister in the Chechen Republic Ichkeria government, referred to up to 20,000 armed Chechens, including senior officials in the pro-Moscow administration who, he claimed, routinely aid and abet the resistance.
In an apparent move to improve the work of the pro-Moscow Chechen Interior Ministry, Russian President Vladimir Putin recently appointed a new first deputy interior minister, General Nikolai Simakov, who will assume responsibility for the work of the criminal police, according to "Kommersant" on November 7.
Alkhanov, however, argued at the November 3 meeting in Grozny that simply intensifying military activities will not break the back of the resistance, nor prevent young unemployed men from joining its ranks, "Nezavisimaya gazeta" reported on November 7. He argued that creating thousands of new job opportunities would not cost any more than the ongoing military operation to wipe out the Chechen resistance.
The Threat Remains
Meanwhile, FSB Director Patrushev on November 7 told a session of the National Antiterrorism Committee that there is a "very real danger" of terrorist attacks against hydroelectric plants in southern Russia.
He said the committee "has intelligence suggesting that hydropower facilities" in Volgograd, Saratov, and Rostov oblasts and in Daghestan "are being targeted," adding that such attacks could "involve catastrophic consequences, paralyze the region [involved], lead to mass casualties, and cause serious economic losses."
"Vremya novostei" followed by noting on November 8 that the Chechen resistance threatened in 1999 to blow up a dam and bridges across the Volga, lenta.ru reported. The Chechen resistance Volga Front claimed responsibility in late September for an explosion that damaged a gas pipeline in Volgograd Oblast and vowed to strike again at Russia's energy system.
Chechen Female Suicide Bombers
Chechen Female Suicide Bombers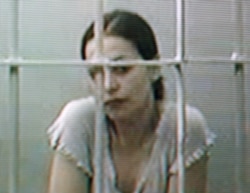 Zarema Muzhikhoyeva, who was arrested in July 2003 while attempting to explode a suicide bomb, in a Moscow court in August 2004 (TASS)
RADICALIZED WOMEN: In October 2002, 42 Chechen militants seized hundreds of hostages in a Moscow theater. Nineteen of the hostage-takers were women, marking the first time women had participated in a mission of this type on this scale. However, Chechen women have been carrying out suicide and other attacks since at least 2000.
September 1-3, 2004: More than 30 Chechen terrorists seize more than 1,000 hostages at a school in Beslan, North Ossetia. According to reports, two to four of the terrorists were women.
August 31, 2004: Roza Nagayeva , the sister of Amanat Nagayeva (see above), blows herself up outside a Moscow metro station, killing 10.
August 24, 2004: Two Chechen women, Amanat Nagayeva and Satisita Dzhbirkhanova, detonate explosives on two Russian commercial airliners nearly simultaneously, killing a total of 90 people.
February 6, 2004: An unidentified woman kills more than 40 people in a suicide bomb attack in the Moscow metro.
December 9, 2003: An unidentified woman blows herself and six others near a Moscow hotel.
December 5, 2003: Four suicide bombers -- reportedly three women and a man -- blow up a commuter train in southern Russia, killing at least 44 people.
July 27, 2003: An unidentified woman blows herself and a female civilian up at a security checkpoint in Grozny.
July 10, 2003: Zarema Muzhikhoyeva is detained while attempting to explode a bomb near a downtown Moscow hotel. A police sapper is later killed trying to disable the bomb.
July 5, 2003: Two female suicide bombers -- Zulikhan Elikhadzhiyeva and Maryam Sharipova -- kill 14 at Moscow rock concert.
June 5, 2003: An unidentified female suicide bomber blows up a bus in Mozdok, North Ossetia, killing at least 18.
May 14, 2003: One or two female suicide bombers kill at least 16 at the Chechen town of Iliskhan-Yurt. Russian authorities believe the attack was an attempt to assassinate pro-Moscow Chechen leader Akhmed-hadji Kadyrov.
May 12, 2003: Two or three suicide bombers explode a truck at a government complex in Znamenskoye, Chechnya, killing at least 60 people. According to some reports, the truck was driven by two unidentified women.
October 23-26, 2002: Nineteen of the 41 militants who seized hostages at a Moscow theater were women. All the terrorists died when special forces stormed the building.
November 29, 2001: Elza Gazuyeva detonates a bomb, killing herself and a Russian military officer in Urus-Martan. Gazuyeva blamed the officer for ordering the killing of her husband.
June 7, 2000: In the Chechen town of Alkhan-Yurt, Khava Barayeva -- a woman related to two Chechen field commanders -- detonates a truck bomb. The Russian military says two soldiers were killed.
CHRONOLOGY
An annotated timeline of
the Chechnya conflict
. An annotated timeline of
major terrorist incidents
related to the Chechnya conflict.


RFE/RL's complete coverage of Russia's war-torn Republic of Chechnya.