The group says it has documented more than 100 cases of torture in its 16-page study.
It says detainees have been subjected to torture in both official and secret detention facilities in Chechnya, and that torturers are de facto never punished.
HRW blames the pro-Moscow forces of Chechen Prime Minister Ramzan Kadyrov for the majority of torture cases. But it also says it has documented "numerous" cases of ill-treatment and torture by federal police personnel.
HRW is urging the UN Committee Against Torture to send Russia a "clear message" that it must stop, punish, and prevent future acts of torture.
It also calls on Russia's international partners, including the European Union, to press Russia on the issue.
The Chechnya Conflict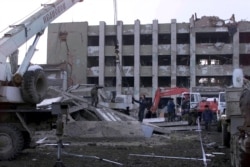 The aftermath of a December 2002 Chechen resistance attack on the main government building in Grozny (epa)


CHRONOLOGY
The
fighting in Chechnya
has raged, with short breaks, since 1994. It has brought misery, death, and destruction to the North Caucasus republic and to Russia as a whole. View an
annotated timeline
of the conflict.

ARCHIVE
RFE/RL's complete coverage of Russia's war-torn Republic of Chechnya.