"A group of terrorists in military uniforms, in the uniforms of police commandos, stormed into the Directorate of Scholarships and Cultural Relations at the Ministry of Higher Education and the Directorate of Reconstruction and Projects, at 10 a.m.," Makki said. "They said that they were from the Commission on Public Integrity and that they had lists of [wanted people]. So they arrested, or rather kidnapped, all the men they found there. They kidnapped deputy directors, all employees, assistants and cleaners, leaving nobody behind."
Iraqi police say the people were taken away by unknown gunmen wearing police uniforms claiming to be on an official anticorruption mission.
"It was breakfast time," one witness, who asked to be identified as Walid, told Reuters. "The [employees] were having their breakfast when [the gunmen] stormed the building. They did not come through the doors, but from over the walls. They came from over the walls."
Police say the assailants forced their captives into vehicles and drove them to an unknown destination. They say the whole operation took about 20 minutes. An Interior Ministry official said later that three people were released unharmed.
There was no immediate claim of responsibility.
In separate incidents, police say 10 people were killed at a crowded market in Baghdad, and near the capital, seven Iraqis were killed by gunmen who stopped a minibus.
In other violence, Iraqi media report that a U.S. military raid in the western town of Al-Ramadi has left at least 30 Iraqis dead and several others wounded.
Many of the casualties were believed to be civilians. Several homes were reportedly destroyed in the raid.
There was no official comment from U.S. or Iraqi authorities.
(AFP, AP, Reuters, dpa)
Sectarian Iraq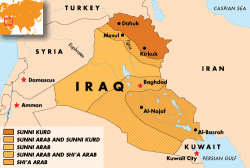 Click to enlarge the image.
SUNNI, SHI'A: Iraq is riven along sectarian lines, faults that frequently produce violent clashes and are a constant source of tension. Sectarian concerns drive much of Iraqi politics and are the main threat to the country's fragile security environment.


THE COMPLETE PICTURE: Click on the image to view RFE/RL's complete coverage of events in Iraq and that country's ongoing transition.