Syria Ready To Talk With U.S. On Iraq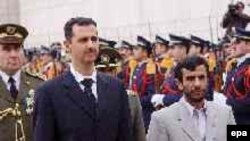 Syrian President Bashar al-Assad (left) and Iranian President Ahmadinejad (file photo) (epa) November 14, 2006 -- The Syrian government daily "Tishreen"  says Damascus is ready to talk with the United States about how to help stabilize Iraq.
The comments come as a U.S. bipartisan panel, the Iraq Study Group, is reviewing policy on Iraq, with some of its members reportedly favoring engaging with Syria and Iran.
Iran's president, Mahmud Ahmadinejad, said on November 14 that Tehran has not decided whether to talk to the United States but he said it would review any request by the U.S. administration.
On November 13, British Prime Minister Tony Blair urged Syria and Iran to help stem the violence in Iraq.
(Reuters)


SUBSCRIBE For weekly news and analysis on Iraq by e-mail,
subscribe to "RFE/RL Iraq Report."