Bosnian Court Jails War Criminal For 16 Years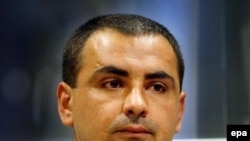 Radovan Stankovic (file photo) (epa) November 14, 2006 -- Bosnia's new war crimes court has sentenced a former Bosnian Serb soldier to 16 years in jail for raping and enslaving Muslim women during the country's civil war.
The court ruled that Radovan Stankovic, along with others, set up a women's detention center in 1992 that Serb soldiers dubbed "the Brothel."
Stankovic's case was the first transferred to Bosnia from the UN war crimes tribunal at The Hague.
(AFP)