Iraq's Higher Education Ministry says about 70 of the people seized from a Baghdad research institute on November 14 have now been released.
Ministry spokesman Basil al-Khatib said about 40 of those abducted were released overnight and an additional 30 were accounted for today.
But details are murky.
It remains unclear how many people were originally kidnapped in the raid by militants, with figures varying between 50 and 150.
It is also unclear whether the freed kidnap victims were liberated in a police operation or whether they were simply released by their abductors.
Gunmen wearing uniforms similar to those worn by Iraqi police were reported to have carried out the mass kidnapping on November 14 at a Ministry of Higher Education building.
Amid suspicions of police complicity in the kidnapping, at least five senior police officers have reportedly been detained for questioning, including the police chief of the Al-Karradah district, where the abductions occurred.
(BBC, Reuters)
Sectarian Iraq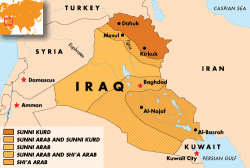 Click to enlarge the image.
SUNNI, SHI'A: Iraq is riven along sectarian lines, faults that frequently produce violent clashes and are a constant source of tension. Sectarian concerns drive much of Iraqi politics and are the main threat to the country's fragile security environment.


THE COMPLETE PICTURE: Click on the image to view RFE/RL's complete coverage of events in Iraq and that country's ongoing transition.