U.S. Ambassador to the UN John Bolton said no progress was made in talks on November 15 involving himself and envoys from Russia, China, Britain, France, and Germany.
The United States and its European allies support imposing sanctions that would target Iran's nuclear and ballistic-missile programs, but Russia and China have so far been reluctant to agree.
Meanwhile, a U.S. State Department official said on November 15 that the United States is ready "in principle" for direct talks with Iran about the role being played by Iran in Iraq.
David Satterfield, a senior adviser to Secretary of State Condoleezza Rice, told a U.S. Senate committee on that the timing of such a dialogue with Iran was still being reviewed by U.S. officials. U.S. leaders have previously linked any talks with Tehran to Iran suspending uranium-enrichment work.
(Reuters, AFP, BBC)

Security Guarantees For Iran?
Security Guarantees For Iran?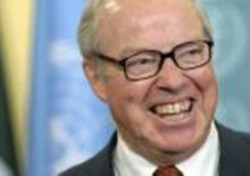 Hans Blix (CTK)

SECURITY GUARANTEES On January 26, RFE/RL Radio Farda correspondent Fatemeh Aman spoke with former UN chief weapons inspector HANS BLIX about the confrontation between Iran and the international community over Tehran's nuclear ambitions. Blix urged the United States to participate in direct negotiations with Tehran and to offer Iran security guarantees that are similar to those being discussed with North Korea...(more)
LISTEN
Listen to the complete interview (about five minutes):

Real Audio
Windows Media

THE COMPLETE STORY: RFE/RL's complete coverage of controversy surrounding Iran's nuclear program.