This weekend's gathering in New Delhi -- the second Regional Economic Cooperation Conference on Afghanistan -- will focus on ways to rebuild Afghanistan's war-ravaged economy, despite increased violence there.
Navtej Singh Sarna, a spokesman for India's Foreign Ministry, told RFE/RL that the gathering is meant to follow up on the work of a similar event in Kabul last year.
"The threat is that the constant instability and violence prevents our common project -- of the international community and most Afghans -- from succeeding."
Bringing The Focus Back
"The Regional Economic Cooperation Conference was envisaged to bring together all of the important players in the postwar reconstruction of Afghanistan onto a single platform," he said. "And the major players have been the G8 countries, [the United Nations], the neighboring countries, and other important donors to the Afghan reconstruction program."
Sarna says the goal this weekend is to refocus the efforts of Kabul's neighbors and major donors on Afghanistan's reconstruction.
"At the end of the Kabul conference [last year], a declaration was adopted to increase the stake of the regional countries in the prosperity of Afghanistan," he said. "That declaration incorporated 10 issues that were identified as potential areas of cooperation -- including the recommendations of three technical working groups."
The goals of the conference were supported by Italian Foreign Minister Massimo D'Alema during his visit to Kabul on November 11. D'Alema said an international conference on Afghanistan is needed to "relaunch international relations" -- exploring not only the problems of Afghanistan's illegal drug trade and terrorism, but also economic reconstruction and the development of an Afghan national police force.
"What we strongly believe is that the concern is not to push the Europeans, the international community, to leave Afghanistan," he said. "We want to continue supporting your country. But we want to work better, to improve our effort. And our opinion is that we want to have a comprehensive approach -- not only a [military] approach."
Discussion About Pipelines?
Afghan officials say Karzai plans to discuss importing electricity from neighboring countries. He also is seeking potential overseas markets for Afghan agricultural products -- a step aimed at encouraging farmers to grow crops other than opium poppies.
A proposed multibillion-dollar natural gas pipeline that would link Turkmenistan to India through Afghanistan and Pakistan is not on the formal agenda of the New Delhi conference.
But Karzai's office says the Afghan president is prepared to discuss that plan. Iran also wants to build a natural-gas pipeline to Pakistan and India. That proposal is strongly opposed by the United States.
Karzai flew out of Kabul for India on November 15. One spokesman, Khaliq Ahmad, says Karzai wants to draw the attention of investors to trade opportunities in Afghanistan and the opening of new markets there.
But while Karzai's talks in New Delhi may help to establish trade links with Afghanistan, his meetings with Indian government officials have been a source of concern for Pakistan.
Not Using India Against Islamabad
In an interview with RFE/RL, Karzai spokesman Karim Rahimi denied that Afghanistan is trying to build its relations with India at the expense of Pakistan. Rahimi insists that Kabul is acting independently in its relations with its neighbors and other countries in the region.
"The trip to India, or the talks with Indian authorities, are part of this process," he said. "President Karzai's trip to India is doubtlessly for the purpose of building good relations with other countries. We never use the expansion of relations with one country against the interests of another country."
Barnett Rubin is an expert on Afghanistan and director of New York University's Center on International Cooperation. He says Afghanistan has been put in a precarious situation because of support for the Taliban by some elements within Pakistan.
"The threat that we are facing is not the Taliban marching into Kabul," he said. "They can't do that. The threat is that the constant instability and violence prevents our common project -- of the international community and most Afghans -- from succeeding."
Rubin says the reconstruction of Afghanistan is also being hampered by suspicions that Pakistan and India have toward each other over the divided region of Kashmir.
Pakistan's Shadow
"For Pakistan, the question is 'How does it define its national interest?'" he continued. "Is it defined by an anti-India national security approach? Or can Pakistan envision a larger regional role as an Islamic power in the region -- not just a national Islamic state? Or can it conceive for itself a role as a developmental state that engages in policies of mutual benefit with its neighbors and overcomes past territorial and ideological conflicts. That depends, partly, on India as well. India and Pakistan, hopefully, will someday overcome these problems. Afghanistan is paying the price for it."
Despite billions of dollars pledged and spent by donors since U.S.-led forces toppled the Taliban regime in late 2001, Afghanistan's economic infrastructure remains largely in shambles as a result of decades of war.
Corruption is rife. Fighting that has killed nearly 3,700 people so far this year poses a major threat to investment -- including projects aimed at rebuilding roads, power stations, and other key infrastructure.
(Contributors to this story include RFE/RL's Radio Free Afghanistan correspondent Ajmal Aand in Kabul and Ayesha Khan in Prague.)
Afghanistan And Pakistan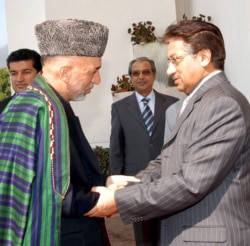 Afghan President Hamid Karzai (left) with Pakistani President Pervez Musharraf in Islamabad in October 2005 (epa)

ACROSS A DIFFICULT BORDER. The contested border between Pakistan and Afghanistan is some 2,500 kilometers long and runs through some of the most rugged, inhospitable territory on Earth. Controlling that border and preventing Taliban militants from using Pakistan as a staging ground for attacks in Afghanistan is an essential part of the U.S.-led international coalition's strategy for stabilizing Afghanistan. Officials in Kabul have been pointing their fingers at Pakistan for some time, accusing Islamabad or intelligence services of turning a blind eye to cross-border terrorism targeting the Afghan central government. Many observers remain convinced that much of the former Taliban regime's leadership -- along with leaders of Al-Qaeda -- are operating in the lawless Afghan-Pakistani border region.... (more)
RELATED ARTICLES
Pakistan-Afghanistan Conflicts Continue
Karzai, Musharraf Spar Ahead Of Bush Meeting
Musharraf Says Taliban Could Spark Pashtun 'National War'
Afghan Minister Attacks Pakistani Support For 'Terrorism'
Historical Context Of Afghan-Pakistani Relations
Afghanistan/Pakistan: 'Inseparable Twins' In Need Of Separation
ARCHIVE
RFE/RL
coverage of Afghanistan
. RFE/RL
coverage of Pakistan
.
SUBSCRIBE
For weekly news and analysis on Afghanistan by e-mail,
subscribe to "RFE/RL Afghanistan Report."