Russian Editor Gets Five-Year Sentence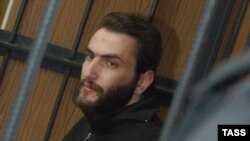 Boris Stomakhin in a Moscow court today (ITAR-TASS) November 20, 2006 -- A Moscow court today found the editor of the "Radikalnaya politika" bulletin, Boris Stomakhin, guilty of publicly instigating religious enmity and extremism.
Stomakhin has been sentenced to five years in prison. His reports were also published on Kavkaz-Tsentr, a Chechen separatist website.
(Interfax, RIA Novosti)