Lukashenka Says He Reduced Vote Tally For West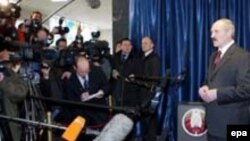 Lukashenka (right) greeting supporters on election day, March 19 (epa) November 24, 2006 -- Belarusian President Alyaksandr Lukashenka, accused of inflating his vote tally to win reelection in March, says he actually reduced the number of votes he received to make the result more acceptable to the West.
Lukashenka made the remark to journalists in Minsk on November 23.
"Yes, we falsified the latest elections," Lukashenka said. "I have already told the Westerners about this. As many as 93.5 percent of voters voted for President Lukashenka. But they said this was not a 'European' figure. And we reduced it to 86 [percent]. That's indeed what happened."
In March, Lukashenka was officially credited with winning 83 percent of the vote. He did not explain why he now says the official vote tally gave him 86 percent of the vote.
The election gave Lukashenka an unprecedented third term as president.
(Reuters)
RFE/RL Belarus, Ukraine, And Moldova Report

SUBSCRIBE For weekly news and analysis on Belarus, Ukraine, and Moldova by e-mail,
subscribe to "RFE/RL Belarus, Ukraine, And Moldova Report."