In a speech yesterday to the Royal Institute of International Affairs in London, British Defense Secretary Des Browne said he expects "significant" reductions in the country's 7,100 troops in Iraq by the end of 2007.
"By the end of next year, I expect numbers of British forces in Iraq to be significantly lower by a matter of thousands," Browne said. "The planning for this has been going on for some months, and I have been pressing our planners to look at all the options to make sure that we do not ask a single soldier to remain in Iraq longer than is necessary."
Polish President Lech Kaczynski said the same day that Warsaw intends to pull out its 880 soldiers by late next year, although he says no final date has been fixed.
Meanwhile, the last of Italy's 60 to 70 soldiers in Iraq are due to return home by the end of this week after handing over their base in the south to Iraqi forces.
(compiled from agency reports)
The International Coalition In Iraq
The International Coalition In Iraq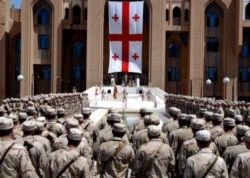 Georgian soldiers marking Georgian Independence Day in Baghdad on June 6 (epa)
COALITION MEMBERS: In addition to the United States, 28 countries are Multi-National Force-Iraq (MNF-I) contributors as of May 31, 2006: Albania, Armenia, Australia, Azerbaijan, Bosnia-Herzegovina, Bulgaria, the Czech Republic, Denmark, El Salvador, Estonia, Georgia, Italy, Japan, Kazakhstan, Latvia, Lithuania, Macedonia, Moldova, Mongolia, the Netherlands, Poland, Portugal, Romania, Singapore, Slovakia, South Korea, Ukraine, and the United Kingdom. Fiji is participating as part of the UN mission in Iraq. Hungary, Iceland, Slovenia, and Turkey are NATO countries supporting Iraqi stability operations but are not part of MNF-I.
NON-U.S. MILITARY PERSONNEL IN IRAQ: United Kingdom, 8,000 as of May 26, 2006; South Korea, 3,237 as of May 9, 2006; Italy, 2,900 as of April 27, 2006; Poland, 900 as of May 30, 2006; Australia, 900 as of March 28, 2006; Georgia, 900 as of March 24, 2006; Romania, 860 as of April 27, 2006; Japan, 600 as of May 30, 2006; Denmark, 530 as of May 23, 2006; All others, 1,140.
(Source: The Washington-based Brooking Institution's Iraq Index of June 15, 2006)


THE COMPLETE STORY: RFE/RL's complete coverage of events in Iraq and that country's ongoing transition.
RADIO FREE IRAQ: To visit the Arab-language website of RFE/RL's Radio Free Iraq, click here.