The council was responding to a request from Iraqi Prime Minister Nuri al-Maliki.
U.S. Ambassador to the UN John Bolton welcomed the vote a day ahead of planned talks in Jordan between al-Maliki and U.S. President George W. Bush on how to bring violence under control.
"The Security Council remains strongly of the view that we need to see stability in Iraq and continued progress toward democracy," he said. "And the fact that it was a unanimous vote shows that all the countries want to contribute to it, and I think the explanation vote by France made it clear we all share the same objective. I think that's something that neighboring countries need to take into account."
The resolution stated the mandate of the 160,000-strong force would be terminated earlier if requested by the government of Iraq.
Meanwhile, the U.S. military reported that eight suspected Al-Qaeda-affiliated militants were killed today in an early morning raid near Ba'qubah, north of the capital, Baghdad.
The military says two Iraqi women were also killed during the operation. During the raid, and after a heavy exchange of fire between U.S. troops and a group of militants, two women were found dead on the scene.
(AFP, Reuters, AP)
The International Coalition In Iraq
The International Coalition In Iraq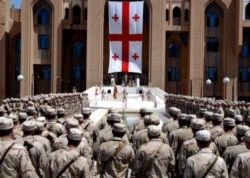 Georgian soldiers marking Georgian Independence Day in Baghdad on June 6 (epa)
COALITION MEMBERS: In addition to the United States, 28 countries are Multi-National Force-Iraq (MNF-I) contributors as of May 31, 2006: Albania, Armenia, Australia, Azerbaijan, Bosnia-Herzegovina, Bulgaria, the Czech Republic, Denmark, El Salvador, Estonia, Georgia, Italy, Japan, Kazakhstan, Latvia, Lithuania, Macedonia, Moldova, Mongolia, the Netherlands, Poland, Portugal, Romania, Singapore, Slovakia, South Korea, Ukraine, and the United Kingdom. Fiji is participating as part of the UN mission in Iraq. Hungary, Iceland, Slovenia, and Turkey are NATO countries supporting Iraqi stability operations but are not part of MNF-I.
NON-U.S. MILITARY PERSONNEL IN IRAQ: United Kingdom, 8,000 as of May 26, 2006; South Korea, 3,237 as of May 9, 2006; Italy, 2,900 as of April 27, 2006; Poland, 900 as of May 30, 2006; Australia, 900 as of March 28, 2006; Georgia, 900 as of March 24, 2006; Romania, 860 as of April 27, 2006; Japan, 600 as of May 30, 2006; Denmark, 530 as of May 23, 2006; All others, 1,140.
(Source: The Washington-based Brooking Institution's Iraq Index of June 15, 2006)


THE COMPLETE STORY: RFE/RL's complete coverage of events in Iraq and that country's ongoing transition.
RADIO FREE IRAQ: To visit the Arab-language website of RFE/RL's Radio Free Iraq, click here.