The decision must still be officially approved by the Parliamentary Assembly's Standing Committee of Heads of Delegations.
The recommendation was issued ahead of the start of a two-day meeting in Brussels, Belgium, of the OSCE Ministerial Council, the central decision-making and governing body of the 56-country trans-Atlantic organization.
The meeting is expected to discuss Kazakhstan's bid to chair the OSCE's rotating presidency in 2009.
Opponents of a Kazakh chair say Kazakhstan, which has never held an election considered fair by Western observers, falls short of the OSCE's human rights and democracy standards. But supporters say Kazakhstan needs encouragement to continue reforms, and that the OSCE should involve Central Asian countries more fully in its activities.
Presidential Visit
The OSCE meeting coincides with a visit to Brussels by Kazakh President Nursultan Nazarbaev.
Nazarbaev arrived today for talks with NATO and European Union leaders, including European Commission President Jose Manuel Barroso.
Nazarbaev is scheduled today to sign a memorandum of understanding with the European Commission on energy.
(Reuters, AFP, AP)
Kazakhstan And The OSCE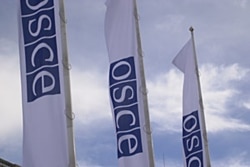 READY TO LEAD THE OSCE? Kazakhstan has been lobbying to be granted the rotating chair of the Organization for Security and Cooperation in Europe (OSCE) in 2009. In March, current OSCE head Karel De Gucht visited the country and said Kazakhstan is better prepared to head the OSCE than any other Central Asian country. But concerns about the state of democracy, the media, and ethnic relations make Kazakhstan's bid extremely controversial....(more)
RELATED ARTICLES
OSCE Says Kazakh Presidential Vote Flawed
OSCE Says Kazakh Obligations Not Met Ahead Of Vote
OSCE Offers Amendments To Kazakhstan's Draft Media Law
ARCHIVE
RFE/RL's
coverage of Kazakhstan
. The website of
RFE/RL's Kazakh Service
.