Abd al-Aziz al-Hakim was speaking on December 4 in Washington at the U.S. Institute of Peace. Earlier, he met with U.S. President George W. Bush, who told al-Hakim that he is not satisfied with the pace of progress in Iraq.
Al-Hakim is the leader of the Supreme Council for the Islamic Revolution in Iraq (SCIRI), the biggest party in Iraq's Shi'ite-dominated government. Minority Sunnis accuse the SCIRI's militia, the Badr Organization, of targeting them.
Meanwhile, U.S. Ambassador to Iraq Zalmay Khalilzad, and the commander of U.S. forces in Iraq, General George Casey, issued a joint statement urging Iraqis "not to become pawns of those" who seek to destroy Iraq.
The statement came after police found more than 50 bodies, many showing signs of torture, dumped at two sites in Baghdad.
(Reuters)
Sectarian Iraq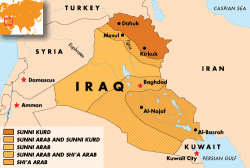 Click to enlarge the image.
SUNNI, SHI'A: Iraq is riven along sectarian lines, faults that frequently produce violent clashes and are a constant source of tension. Sectarian concerns drive much of Iraqi politics and are the main threat to the country's fragile security environment.


THE COMPLETE PICTURE: Click on the image to view RFE/RL's complete coverage of events in Iraq and that country's ongoing transition.