An official news report posted on the Kazakh government's website says the ceremony in southern Kazakhstan coincided with the production of the first ton of ore by the Zarechnoye joint venture.
Sergei Kiriyenko, the head of Russia's atomic-energy agency, Rosatom, also attended the inauguration.
Kiriyenko said Kazakhstan and Russia hope to lead "the world's nuclear market."
The Zarechnoye mine is expected to produce 1,000 tons of uranium a year by 2009. Officials say the development of four additional nearby deposits will eventually bring the joint venture's total annual output to 6,000 tons.
Kazakhstan is the world's third-largest uranium producer, after Australia and Canada.
(with material from Kazinform, Kazakhstan Today, Interfax, and RIA Novosti)
Kazakhstan And The OSCE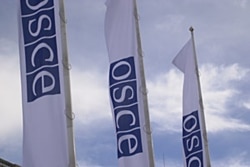 READY TO LEAD THE OSCE? Kazakhstan has been lobbying to be granted the rotating chair of the Organization for Security and Cooperation in Europe (OSCE) in 2009. In March, current OSCE head Karel De Gucht visited the country and said Kazakhstan is better prepared to head the OSCE than any other Central Asian country. But concerns about the state of democracy, the media, and ethnic relations make Kazakhstan's bid extremely controversial....(more)
RELATED ARTICLES
OSCE Says Kazakh Presidential Vote Flawed
OSCE Says Kazakh Obligations Not Met Ahead Of Vote
OSCE Offers Amendments To Kazakhstan's Draft Media Law
ARCHIVE
RFE/RL's
coverage of Kazakhstan
. The website of
RFE/RL's Kazakh Service
.