The U.S. military says its forces killed 20 Al-Qaeda militants, including two women, in a ground and air operation near Ishaqi, a Sunni militant stronghold, after coming under heavy fire.
But Western news agencies quoted Iraqi police and local officials as saying as many as seven women and eight children from two extended families died in a U.S. air strike.
Speaking in Baghdad, one of the top U.S. military commanders in Iraq, Lieutenant General Peter Chiarelli, promised reporters that the incident will be investigated.
"I can promise you that in every one of these incidents that occurs that it will be fully investigated," he said. "I think you've seen that in the past, and this one will be fully investigated if, in fact, there is any merit to the charges that are being made, at least from what I've seen in the press."
In June, a U.S. military investigation cleared U.S. troops of misconduct in the deaths of up to 13 civilians in Ishaqi.
(compiled from agency reports)
On The Verge Of Civil War
On The Verge Of Civil War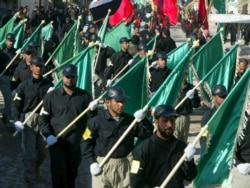 The Imam Al-Mahdi Army on parade (epa)
HAS THE CONFLICT IN IRAQ BECOME A CIVIL WAR? Many observers have concluded that the tit-for-tat sectarian violence that emerged after the February 2006 bombing of a mosque in Samarra has become a full-blown civil war.... (more)


RELATED ARTICLES
U.S. Media Starts Using 'Civil War' Label
Iraqi Prime Minister Under Fire From All Sides
U.S. Expert Discusses Prospects For Stabilization
President Says Iraq Needs Iran's Help
Saudi Arabia To Seal Off Border With Security Fence

THE COMPLETE PICTURE:
Click on the image to view RFE/RL's complete coverage of events in Iraq and that country's ongoing transition.