Any results are certain to be rejected by Moldova's neighboring countries and in the West.
No Western observers were monitoring the balloting, but Russian legislators and representatives of several other separatist regions -- including Nagorno-Karabakh, Abkhazia, and South Ossetia -- were said to have come to Transdniester for the vote.
Authorities had reported that more than half of the region's nearly 400,000 registered voters had cast a ballot by early afternoon local time. Preliminary results are expected on December 11.
Transdniestrians are choosing among several candidates -- incumbent Igor Smirnov, a businessman, a local Communist Party leader, and a newspaper editor and strident critic of Smirnov's whose candidacy was rejected by election officials in late November.

The mostly Russian-speaking region broke away in the early 1990s, but its independence has not been recognized internationally.

A referendum in September, whose results were dismissed by the European Union and the United States, saw more than 97 percent of voters back independence for the region, with the ultimate goal of union with Russia.

The Russian Duma subsequently approved a statement backing the independence vote and urging the international community to recognize its results.

Smirnov has led Transdniester since 1990. If he wins, it would be his fourth term as president in a region that has no term limits.

Smirnov has declared flatly that "there will be no united Moldova," adding that the Slavic majority population of Transdniester has "different values."
The Transdniestrian president is elected for five-year terms, and a second round is held if no candidate wins a majority of the vote in the first round.

(AFP, Reuters, ITAR-TASS)
The Transdniester Conflict
The Transdniester Conflict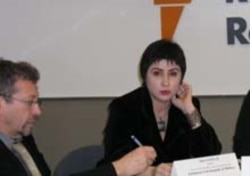 Stela Jantuan, head of the Information, Analysis, and Prognosis Service of the Moldovan parliament (RFE/RL)

FROZEN CONFLICT: On January 11, 2006, RFE/RL's Washington office hosted a panel discussion on prospects for settling the Transdniester conflict. The roundtable featured STEFAN GLIGOR and STELA JANTUAN of the Information, Analysis, and Prognosis Service of the Moldovan parliament and ALEXANDRU FLENCHA, head of the information and analysis division of Moldova's Ministry of Reintegration.
LISTEN
Listen to the complete panel discussion (about 90 minutes):

Real Audio
Windows Media
TALKS CONTINUE. The conflict between the Republic of Moldova and the unrecognized, separatist Transdniester Republic has festered for more than 15 years. A decade of talks supervised by the OSCE, Russia, and Ukraine have stagnated, while allegations mount concerning the involvement of Transdniester separatists in money-laundering and trafficking in arms, drugs, and human beings. What are the current prospects for settling this frozen conflict? (more)
ARCHIVE
An archive of RFE/RL's coverage of Transdniester.